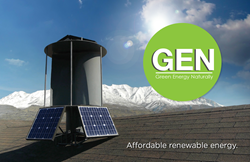 Save 30-70% on your electric bill with the world's first patent pending solar and wind renewable energy generator.
Provo, Utah (PRWEB) May 02, 2014
A Utah startup is disrupting the renewable energy industry with their Kickstarter project that launched yesterday and will be running over the next 27 days. The purpose of the project is to bring to market their patent-pending design that combines solar power and wind power into one compact unit. In less than 24 hours of launching, they were able to attain 22% of their overall funding goal and have been featured on many renewable energy and technology blogs.
"For a couple of years we tried to justify buying a windmill or solar panels for our home to generate our own electricity. After extensive research, we found out that they could cost up to $50,000. Since it didn't make financial, we decided to make The GEN. The GEN combines wind power and solar power technology into one affordable compact unit. It fits comfortably on your roof and can produce up to 70% of the electricity you need for your home."
The United States relies on fossil fuels for 70% of its electrical generation. As fossil fuels diminish, such as coal, oil and natural gas, it will become more costly and more harmful to the environment to retrieve them. This is why they invented "The GEN". Their mission is to create renewable energy solutions that save you money and protect the earth's natural resources.
"American homes use on average 830 kWh per month. Assuming your home receives wind speeds between 5-10 miles per hour and received 5-10 hours of sunshine per day, the Gen will produce 300 to 600 kWh per month. That is up to 70% of the electricity you need. Imagine the results in an area with frequent wind and lots of sunshine!"
The Kickstarter campaign, which runs through May 29th, 2014 (27 days), will enable Marcio and his team of engineers to raise enough money to meet their manufacturer's minimum order quantity.
For additional information on the history, specs, and Kickstarter project, please visit http://kck.st/1hSybn2.