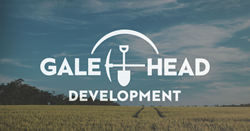 "We are excited about the new website. It is a great reflection of who we are as an organization."
PORTSMOUTH, N.H. (PRWEB) December 05, 2018
Calypso, a strategic brand identity agency, is pleased to announce its partnership with Galehead Development ("Galehead"), a renewable energy project development company based in Boston, MA. Founded in 2016, Galehead works closely with landowners in markets across the U.S. and co-develops projects with industry-leading energy companies and investors to provide competitive power generation resources.
To properly reflect Galehead's unique business model, Calypso created a website (galeheaddev.com) that seamlessly and effectively engages with the firm's target audiences, including nationwide energy developers and large landowners. Calypso incorporated messaging that represents Galehead's evolution, and included visuals that convey its strength, technology, and expertise.
"We are excited about the new website. It is a great reflection of who we are as an organization," said Patrick Martin, Galehead's chief operating officer. "The flexible format Calypso built will be essential to keeping pace with our growing team. We will continue to view the site as an important outward-facing tool that represents Galehead to visitors."
"It was a pleasure working with the dedicated Galehead team on the website project," said Marc Checket, Calypso's art director. "Our mission was to showcase the exciting and expansive work that Galehead is doing with landowners and developers throughout the United States. We greatly enjoy working with forward-thinking organizations such as Galehead."
About Calypso
Calypso is a strategic brand identity agency that crafts marketing strategies to position brands for growth. Located in Portsmouth, New Hampshire, Calypso partners with its clients to build strong brands, create awareness, generate leads, and establish long-lasting relationships. For inspiring content and a comprehensive list of capabilities, please visit Calypso at https://www.calypso.agency.
About Galehead Development
Galehead Development is currently originating and managing renewable energy pipeline across North America using its unique combination of proprietary analytics, agile development and commitment to meaningful stakeholder relationships. Galehead Development is growing rapidly and working with leading landowners, developers and suppliers to originate projects and contribute to renewable energy deployment throughout the United States. For more information, please visit https://galeheaddev.com.