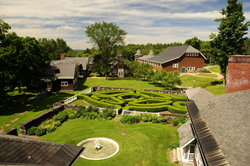 "NECHE Accreditation reminds the world that Goddard college is poised to move forward during these historic times.The entire Board of Trustees stands in gratitude to all who made this monumental accomplishment possible." Gloria J. Willingham-Toure' PhD, Chair, Goddard College Board of Trustees.
PLAINFIELD, Vt. (PRWEB) September 28, 2020
On Thursday, September 24, 2020, the New England Commission of Higher Education (NECHE) voted to continue Goddard's accreditation and remove the college from probation. The ruling validates the College's new operational and financial plans and marks another critical milestone in a successful turnaround supported by thousands of stakeholders who rallied for Goddard's future.
NECHE placed Goddard College on probation in September 2018, due to concerns over governance and finances. NECHE conducted a comprehensive review and site visit, reviewing Goddard's new strategic plan along with finances, before making its final decision this week.
College President Bernard Bull said. "I am sincerely grateful for the steadfast support of the Goddard community; our loyal donors; the vision of our Board of Trustees; the commitment of our alumni; and the dedication of our faculty and staff. This positive decision and the progress the College has made speaks to the resilience of the Goddard community."
"This is an important win for the entire Higher Education ecosystem," President Bull added. "Colleges and universities are becoming increasingly homogenous, and Goddard represents an important alternative for students who are not served by traditional models. NECHE's favorable decision represents a win for diversity in higher education and the students whom we serve."
Current student Isobel Ikard said, "Goddard gives me a combination of academic freedom with faculty support in a way that I've never experienced, and it's been the most inspiring and liberating period of my life. I can't imagine doing the work I'm doing at Goddard anywhere else. With NECHE's decision, I don't have to--I've found my home, and I'm so glad I get to stay."
Unlike other small college's recently placed on probation, Goddard didn't try to rapidly increase revenue or fundraising to maintain the status quo or to "patch an existing problem". Instead the institution did a deep analysis to find what wasn't working, and made changes that would make the school and its financial model stronger in the long run.
Goddard is now looking ahead to the future and a plan for growth and innovation. Bull explained, "We will use this vote of confidence from NECHE as a launchpad for new academic innovations and to return to the spirit of experimentation that Goddard was first founded on. We believe our best experiments are ahead of us, and are inspired by Goddard's future."
ABOUT GODDARD
Founded in 1938, Goddard College emerged as a pioneer of the learner-driven education model that empowers students to direct and design their own course of study. Goddard serves undergraduate and graduate students from around the world with a low-residency model.
Goddard College has been a leader of progressive education in the US, launching many new models of higher education on the frontlines of academic experimentation and innovation.