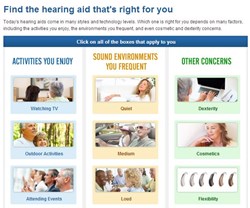 Reno, NV (PRWEB) August 14, 2013
Finding the right hearing aid can be difficult because the different models are designed to match different hearing loss profiles and lifestyles. A person who spends a lot of time outside might choose a different hearing aid than someone who spends more time inside watching TV. A person who works in a loud industrial environment may choose a different hearing aid than someone who rarely frequents loud environments. A person who loves to swim and frequently participates in water sports would likely choose a different style than a person who only gets wet to bathe.
To help the residents of Reno NV narrow down their hearing aid choices and find the styles that best fit their lifestyle, Silver State Hearing & Balance recently added a web-based Hearing Aid Finder Tool to its website. To use the tool, click on the activities you enjoy, the sound environments you frequent and any other considerations. The tool will then display the hearing aid styles that best match your responses. The Hearing Aid Finder Tool is located at http://www.silverstatehearing.com/hearing-aid-finder-tool-reno-nv.php/.
Audiologist, Dr. Christine Schellin and the entire staff at Silver State Hearing & Balance hope that the introduction of the Hearing Aid Finder Tool will help simplify the process of finding and purchasing a new hearing aid in Reno NV.
About Dr. Christine Schellin Au.D.:
Christine Schellin, owner of Silver State Hearing & Balance, Inc., received her B.S. in Speech Pathology/Audiology from the University of Nevada, Reno in 1999, an M.A. in Audiology from Western Washington University in 2001, and an Au.D. from Salus University in 2008. Prior to opening Silver State Hearing & Balance, Inc., Christine was a clinical audiologist at the VA Sierra Nevada HealthCare System for 6 years. She is a fellow of the American Academy of Audiology (AAA) and is licensed by the Nevada State Board of Examiners for Audiology and Speech Pathology, the Nevada State Board of Hearing Aid Specialists and is licensed as a dispensing audiologist in the state of California. She served as vice president for the Nevada Speech Language and Hearing Association from 2004-2006.
About Silver State Hearing & Balance, Inc.:
Silver State Hearing & Balance, Inc. has provided hearing aids in Reno, Nevada and its surrounding communities for several years. The company offers a full range of diagnostic and preventative hearing healthcare professional services, including hearing aid screening, evaluations, hearing aids sales and rehabilitative and preventative counseling. Silver State Hearing & Balance, Inc. is dedicated to keeping abreast of the latest improvements in technological advancements in the hearing industry and are committed to offering the most current options to its patients. Choosing a hearing professional is one of the most important decisions a consumer will ever make and the personal relationships they will develop with the staff at Silver State Hearing & Balance will continue long after the initial appointment.
Contact:
Dr. Christine Schellin
http://www.silverstatehearing.com/
Silver State Hearing & Balance, Inc.
3735 Lakeside Drive, Suite A
Reno, NV 89509
(775) 473-9378