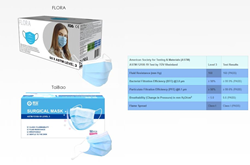 With partnerships like this, we can handle orders from private practitioners, but we are also able to give prices similar to what we saw before the pandemic for larger orders.
SAN FRANCISCO (PRWEB) August 10, 2020
Flora Med Supplies spent the first half of 2020 working to serve critical gear to only hospitals & front-line workers. Since, Flora's supply chain has opened up significantly, allowing their team to provide some types of equipment – like in-demand ASTM level 3 masks – to private dental & doctor's offices throughout the country. Today, Flora is proud to announce its partnership with one of the most well-respected producers of ASTM level 1-3 face masks as an exclusive supplier for several business verticals in the United States.
Warehoused in California and shipped within just a couple of days, Flora's ASTM 3 masks are available immediately. With this new partnership with reputable medical science & technology company, TaiBao, Flora has the ability to provide highly discounted bulk pricing for large orders.
Flora's TaiBao level three masks were independently tested by TÜV SÜD, a third-party, international testing organization that is headquartered in Munich, Germany and was founded in 1866. Meeting or surpassing the requirements of American Society of Testing and Materials (ASTM F2101-19), these 3-ply masks had bacterial filtration efficiency (BFE) of greater than 99.9% and an average particulate filtration efficiency of 99.76% in a multi-sample test.
"With partnerships like this, we are capable of handling orders from independent offices and private practitioners who have been having trouble finding ASTM rated products," said a Flora spokesperson. "We are also able to give prices similar to what we saw before the pandemic for larger orders, which is a good feeling to know that, at least in this regard, things will soon begin to get back to normal."
Flora works with a wide variety of business-sectors to meet their needs, including hospitals, state colleges, wet labs, child care facilities. The company is happy to announce that they have FDA cleared alcohol-based hand sanitizer in both gel and spray medium, and that they can provide ASTM Level 3 masks at some of the most affordable prices and short delivery timelines.