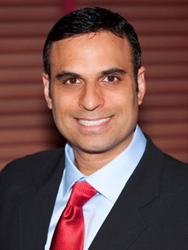 Having placed over 15,000 dental implants, Dr. Singh is experienced in offering single, multiple and full arch dental implants solutions including All-on-4®.
Chicago, IL (PRWEB) October 23, 2018
Dr. Amarik Singh was an honored guest at the latest dental practice growth Catalyst course in Chicago, IL. A renowned periodontist serving Chicago, IL, Dr. Singh is frequently asked to speak at prestigious events, sharing his business prowess as an author of numerous practice management articles, as well as his expertise in modern periodontal treatment techniques.
As the leading dental practice growth continuing education (CE) course, Catalyst offers innovative techniques for growing a dental practice and effectively communicating with patients in need of quality care. An award-winning marketing and advertising firm, Catalyst is organized by Progressive Dental Marketing. Particularly skilled at increasing full arch dental implant cases, Catalyst takes a hands-on approach to finding patients in need of tooth replacement solutions and effectively communicating how this modern solution can meet their needs.
Having placed over 15,000 dental implants, Dr. Singh is experienced in offering single, multiple and full arch dental implants solutions including All-on-4®. His private practice, Periodontal Implant Associates, uses cutting-edge technology including 3D Cone Beam CT imaging that only takes 15 seconds to comfortably capture detailed images of each patient's treatment site. Dr. Singh pairs these images with dental implant software to create digital surgical guides before offering reliable computer-guided dental implant surgery.
Beyond the surgical placement of each dental implant, Dr. Singh also offers the bone grafting, periodontal therapy and tooth extractions necessary to help patients qualify for this life-changing treatment. A dental implant specialist for the last 20 years and Fellow of the International Congress of Oral Implantologists, Dr. Singh takes hundreds of hours of continuing education courses to discover and apply the latest, minimally invasive and proven techniques in his field.
A trusted periodontist in Chicago, IL, Dr. Singh frequently treats patients from the area as well as those across the country visiting for experienced and reliable periodontal care. To schedule a one-on-one dental implants consultation with Dr. Singh, call 630-424-9404.
About the Periodontist
Periodontal Implant Associates is a periodontal practice offering personalized dental care for patients in Oak Brook, IL and the Chicago area. After graduating from Northwestern University Dental School, Dr. Amarik Singh went on to obtain his Specialty Certificate in Periodontics and earn his Master's from Northwestern University. Dr. Singh is deeply committed to continuing education and prides himself on remaining on the cutting-edge of the newest techniques and technology in dentistry. Dr. Singh has placed over 15,000 dental implants using minimally invasive techniques and is part of an elite group of dental professionals at the forefront of the Chao Pinhole® Surgical Technique (PST™), a revolutionary new approach to repairing gum recession. To learn more about the periodontal services available at Periodontal Implant Associates, please visit http://www.pidentists.com or call 630-424-9404.