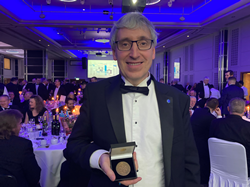 ''The medal was bestowed for his paper and presentation on the pressing issue of 'Carbon Dioxide Hazard Assessments and Safety System Requirements''
LONDON (PRWEB) February 24, 2023
Dr Dermot Cotter, the Managing Director of Star Technical Solutions, the consultancy arm of the Star Refrigeration group of companies, was awarded the Kenneth Lightfoot Medal Award at the Institute of Refrigeration's annual dinner last night (23rd February 2023) in recognition of his knowledge and contribution to the refrigeration industry.
Selected by IOR members as the best research paper presented to the IOR during the year 2021-2022, Dr Cotter's study, 'Carbon Dioxide Hazard Assessments and Safety System Requirements', establishes a systematic framework to enable industrial refrigeration owners and operators to efficiently and accurately assess and address the risks associated with the use of carbon dioxide (R744) in refrigeration systems in order to adhere to regulations and standards.
The award was announced at the 122nd annual IOR dinner, held at the Leonardo Royal London St Paul's, in the city of London, with the prize comprising an engraved medal and £500 in cash.
On receiving the award, Dr Cotter said, "I am honoured and grateful to be recognised by industry peers with a prize that has been dedicated to enhancing and contributing knowledge to the refrigeration industry for years.
In line with Star's longstanding commitment to researching and disseminating industry best practices, I trust that my paper will assist end-users of refrigeration equipment in meeting safety regulations and requirements."
IOR President, Graeme Fox, said "I was delighted to present the IOR Kenneth Lightfoot Medal for the best research paper to Dr Cotter at the IOR Dinner. The medal was bestowed for his paper and presentation on the pressing issue of 'Carbon Dioxide Hazard Assessments and Safety System Requirements'.
The paper highlighted the increasing use of natural refrigerants and the importance of promoting safety awareness to meet the current and upcoming phase-down of f-gas usage to achieve net-zero targets. This award is voted for by the IOR membership and is a testament to our members' appreciation for the high-quality technical output the IOR is renowned for."
Dr Cotter's research laid out a four-step workable approach to review the hazards and risks associated with the safe operation of carbon dioxide refrigeration systems. The paper provides a template for a systemic approach to risk assessment, emergency planning, and facility awareness to encourage the use of safe practices in refrigeration systems and reduce the burden of legislative compliance.
According to Dr. Cotter, current EU and UK legislation requires refrigeration systems to operate safely in all circumstances but provides users with little practical guidance.
Dr Cotter said,"UK regulation is legally binding but there is little actual guidance contained within current best practice standards. The aim of my research was to create a practical guide to improve safety levels at end-users' facilities and compliance with legal directives."
Dr Cotter has published multiple papers on refrigerant safety for the IOR, the IIR, Eurammon, Cold Chain Federation and British Frozen Food Federation and has spent over three decades researching and improving the refrigeration sector's approach to international regulation and best practice. As part of his managerial role at Star Technical Solutions and his position on the Cold Chain Federation's Board of Directors, he provides training, advice and support to refrigeration users from diverse industries.
The Kenneth Lightfoot Medal is supported by Lightfoot Defence and named after Kenneth Lightfoot, a former president of the Institute of Refrigeration, who encouraged young researchers to pursue scientific knowledge. Star Refrigeration staff members who have won the award in recent years include: Star's Group MD, Dr Andy Pearson, Group Sales and Marketing Director, Dr Rob Lamb, Director of Star Data Analytics, John Clark, Senior Consultant, David Blackhurst, Service Manager, Chris Druce and Technical Director, Angus Gillies.
A CPD certified article summarising Dr Cotter's research findings can be found at https://www.star-ref.co.uk/smart-thinking/carbon-dioxide-hazard-and-safety-requirement-assessment-a-systematic-approach-to-risk-assessment-and-emergency-planning/
To find out more information about Dr Cotter and Star Technical Solutions, visit https://www.star-ts.co.uk/