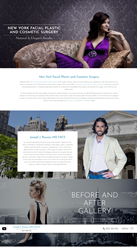 It is always a privilege to help educate others. Mastery of both the functional and aesthetic anatomy of the ear is critical for successful repairs; those who have an intricate knowledge of both are the surgeons who will have the highest quality cosmetic outcomes, says Dr. Joseph Rousso
NEW YORK (PRWEB) April 20, 2021
Dr. Joseph Rousso's informative article, "Reconstructive Options for Auricular Trauma," has been accepted for publication in the Facial Plastic Surgery medical journal. Facial Plastic Surgery medical journal is a well-respected journal that covers topic-specific issues covering areas of aesthetic and reconstructive plastic surgery as it relates to the head, neck and face. Dr. Rousso is a leader and expert on all facets of plastic surgery of the ears, also known as otoplasty and is currently serving in his second year as president of the New York Facial Plastic Surgery Society. Dr. Rousso's surgical skill and vast clinical knowledge has provided countless patients with successful otoplasty procedures, including ear pinning, macrotia reduction, ear reduction and ear lobe repair. Prior to starting his cosmetic private practice, Dr. Rousso had served as division chief of facial plastic surgery at the New York Eye & Ear Infirmary of Mount Sinai where he directed the multi-specialty microtia and ear anomalies services.
The visible portion of the outer ear is called the auricle, and in this article, Dr. Rousso provides a deeper understanding for doctors treating auricular trauma. Dr. Rousso goes into depth on how to handle various auricle injuries on the ear, which can lead to both functional and aesthetic complications. Dr. Rousso provides his valuable input and reviews the reconstructive options for simple and complex auricular injuries based on the anatomical site and the intricate three-dimensional structures that form the auricle.
https://www.thieme-connect.com/products/ejournals/abstract/10.1055/s-0041-1726465
"It is always a privilege to help educate others. Beyond functional anatomy, the auricle plays an important role in facial aesthetics. Mastery of both the functional and aesthetic anatomy of the ear is critical for successful repairs; those who have an intricate knowledge of both are the surgeons who will have the highest quality cosmetic outcomes" says Dr. Joseph Rousso
More About Dr. Rousso:
Dr. Joseph J. Rousso, MD, FACS, is double board-certified by the American Board of Facial Plastic and Reconstructive Surgery and the American Board of Otolaryngology- Head & Neck Surgery. In addition to contributing to medical journals and texts, Dr. Rousso utilizes his depth of experience and training to offer surgical and innovative non-surgical procedures for the face and neck at his state-of-the-art practice, located at 247 Third Avenue #404 in New York, NY. Dr. Rousso is well-known for the full range of procedures he offers in many areas of plastic surgery such as rhinoplasty, deep-plane facelifts, pediatric facial plastic and reconstructive surgery, such as cleft lip and palate repair.
If you would like more information about Dr. Joseph Rousso or to schedule a consultation, please visit http://www.facialplasticsurgery-nyc.com or call (212) 381-6110.