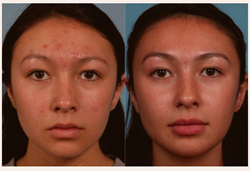 NEWBURGH, N.Y. (PRWEB) March 11, 2020
Board-certified plastic surgeon, Ran Y. Rubinstein, M.D., is proud to offer HydraFacial treatments at his luxurious plastic surgery center in Newburgh, NY. This exciting new professional skin treatment has captured the attention of the world and was even featured in Harper's Bazaar luxury fashion magazine. Positive, rave reviews are stacking up, and Yelp, a top crowd-sourced review forum, has recognized HydraFacial as the favorite way to achieve beautiful, glowing skin.
HydraFacial uses breakthrough technology to refresh the skin. The hydrating detox system deep cleans and removes impurities while exfoliating dead skin, extracting pollutants, and introducing deep hydration. HydraFacial is similar to microdermabrasion, but it includes a serum booster to enhance the results after removing dead skin. The three-step treatment uses a handheld device and interchangeable, patented tips for a customized treatment that caters to the patient's goals. The three steps include:
Cleanse and Lightly Peel
Step one of the HydraFacial involves the use of a light acid peel to exfoliate the skin's surface, clear clogged pores, and remove debris so the skin can absorb the healing serum. HydraFacial gently cleans and exfoliates the outer layers of the skin and instantly brightens the surface.
Extract Plus Hydrate
The HydraFacial treatment extraction process, unlike other treatments, does not leave the skin red or inflamed. HydraFacial extraction gently vacuums blackheads, impurities, and dirt before deeply saturating the skin with healing and hydrating moisturizers.
Fuse and Protect
The final HydraFacial step delivers a serum booster that nourishes and protects the skin, adding amino acids, antioxidants, hyaluronic acids, and peptides. The doctor chooses the serum carefully to address the patient's unique concerns and cosmetic goals. The tailored serum booster will match the patient's skin type, treat skin conditions, and maximize the rejuvenating results of the treatment. Serums can:
Reduce fine lines and wrinkles
Improve skin tone
Hydrate dry or rough skin
Even out hyperpigmentation
Lighten age spots
Tighten skin and improve elasticity
Balance oily skin
Improve acne-prone skin
Reduce large pores
Smooth puffy bags under the eyes
Soften and plump lips
Glowing skin and improved skin tone with visibly reduced fine lines and wrinkles are some of the reported results after one just treatment. Regular treatments encourage long-lasting results and a beautiful, youthful complexion.
At Laser & Cosmetic Surgery Specialists P.C. in Newburgh, NY, Dr. Ran Y. Rubinstein offers safe surgical and nonsurgical treatment options like Coolsculpting for the neck and face and HydraFacial, the wildly popular medical-grade hydrating system. Dr. Rubinstein is a top New York facial plastic surgeon and an active member of the American Society for Laser Medicine and Surgery. He is double board-certified by the American Board of Facial Plastic Surgery and the American Board of Otolaryngology-Head and Neck Surgery. Dr. Rubinstein is one of the most sought after trainers in the Northeast and is a leader in aesthetic laser and injectable procedures.
Dr. Ran Y. Rubinstein performs FDA-approved HydraFacial treatments in Newburgh, NY, at Laser & Cosmetic Surgery Specialists P.C. Call 845.863.1772 or visit yourfacemd.com to schedule a HydraFacial consultation with Dr. Rubinstein.