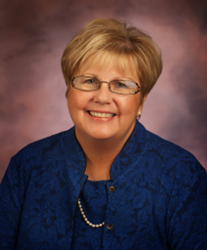 OCEAN CITY, Md. (PRWEB) April 25, 2019
Berkshire Hathaway HomeServices PenFed Realty, one of the country's fastest-growing real estate brokerages, today announced that Linda Moran, REALTOR® in the company's Ocean City, Maryland office, has been awarded the prestigious Realtor Emeritus status by the National Association of REALTORS.
"This is an absolute honor and I can't thank NAR enough," Moran said. "The organization has continued to serve its members so well, whether they're a seasoned agent like me or someone just starting out in the business. Real estate can sometimes be a complex industry to navigate, and the many things that NAR has done to promote the industry and help its members has been invaluable."
NAR conferred Moran with the Emeritus status for her forty year-career longevity, her lasting impact to the profession and her tireless contribution to the Ocean City community. She was recognized at the Coastal Association of Realtors® meeting on April 10.
"Linda is so completely deserving of this honor, I don't even know where to begin," said Terri Bracciale, regional president for the company's Baltimore metro region. "Not only does she continue to achieve such amazing productions results year after year and decade after decade, she's also been so generous with her time in mentoring aspiring new agents and is a tireless champion of the Sunshine Kids Foundation. We always joke with Linda that she's never going to retire because she loves what she does so much."
Moran was born and raised in the Washington, D.C. area before moving to Ocean City in 1991. In 2018, her team received the Berkshire Hathaway HomeServices PenFed Realty Chairman's Circle award for the 11th year in a row, placing her among the company's top one percent of real estate professionals. Moran can be reached at the company's Ocean City West office at 9748 Stephen Decatur Hwy, #109; by email at linda.moran@penfedrealty.com; and by phone at 410-520-2628.
About Berkshire Hathaway HomeServices PenFed Realty
Berkshire Hathaway HomeServices PenFed Realty (http://www.penfedrealty.com) is a full-service real estate company with an annual sales volume of almost $5 billion. The company has 1,800 agents and more than 50 offices, providing complete real estate services nationwide. PenFed Realty is a wholly-owned subsidiary of PenFed Credit Union and is a member of the Berkshire Hathaway HomeServices brokerage network, operated by HSF Affiliates LLC. We are proud to be an equal employment opportunity employer. Equal Housing Opportunity.