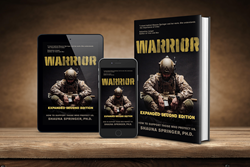 "Doc Springer's wisdom, both penetrating and insightful, has the power to save a life." —Bill Edmonds, Special Forces officer and author of God Is Not Here
SAN FRANCISCO (PRWEB) May 11, 2021
Due to the combined effects of a global pandemic, economic crisis, significant social justice issues, history-making wildfires, and a recent surge in mass violence events, people across America are now facing a level of emotional trauma that is familiar to many of our nation's warfighters. During this mental health awareness month, at a pivotal point in our nation's history, a new edition of the book WARRIOR by renowned psychologist Dr. Shauna Springer urges us to challenge our core assumptions about trauma and healing.
Hard Truths:

Many who die by suicide do not have (and have not ever had) a mental health diagnosis
Developing awareness by sharing sobering statistics about suicide may increase suicide risk
Lack of trust between treatment providers and many who suffer is a serious barrier to care
Mental Health Battles Are Not a "Veterans' Issue" But an American Issue.
People across the nation are suffering in silence without the insights and support they need to stay in the fight. For too long, we have felt collectively helpless in the face of mental warfare and the loss of irreplaceable people due to suicide -- within both our military and civilian circles. Dr. Shauna Springer's WARRIOR is a seminal work that offers new insights and actionable solutions.
From a Trusted Doc to Our Nation's Military Warfighters and First Responders Comes a Book That Touches, Changes, and Even Saves Lives.
Shauna 'Doc' Springer is a licensed psychologist, bestselling author, and keynote speaker, and is one of the world's leading experts on psychological trauma, military transition, suicide prevention, and close relationships. She is a Harvard graduate and a senior advisor to several prominent organizations.
Since the start of the global pandemic, Doc Springer has participated in over 150 media engagements to share insights from her book WARRIOR. Her work has been featured in CNN, VICE, NPR, CBS Radio, Forbes, Business Insider, Military Times, Military.com, Gun Talk Radio, Coffee or Die Magazine, Hazard Ground, The HILL, HAVOK Journal, THRIVE GLOBAL, Police1, Anxiety.org, and Psychology Today. The WARRIOR EBOOK debuted on April 27, 2021, as the top new release in 9 Amazon categories, including "Clinical Psychology," "Psychology of Suicide" "Military Families," "Physician and patient healing," and "War and Peace."
WARRIOR can help us develop insights about how to heal from trauma and overcome universal human challenges. We have all been collectively traumatized. COVID-19 will have a long-term psychological impact. In addition, we've suffered political division, racially driven violence, wildfires, and surges in mass violence. Doc Springer, through the insights she offers in this remarkable book, equips us to get up and fight. WARRIOR is a book that calls to the warrior spirit in all of us, as we emerge from decades of war and a year of continual trauma.
The NEW paperback edition of Dr. Shauna Springer's WARRIOR: How to Support Those Who Protect Us is now available at this link: https://lnkd.in/gK3Q8zg.
Dr. Shauna Springer is available for speaking engagements and media interviews.
Contact: shauna_springer@yahoo.com
Website: https://www.docshaunaspringer.com/
https://www.linkedin.com/in/docshaunaspringer