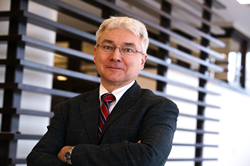 "The work Dr. Kalinski leads is stunning in its scope, its uniqueness and its potential for improving patient care and survival. We look forward to seeing all that he will accomplish and the achievements he will inspire our team to realize."
BUFFALO, N.Y. (PRWEB) May 12, 2021
- Dr. Kalinski has attracted more than $22.5 million in active grants

His innovations have potential to significantly improve patient care
Will oversee all team-science efforts at the cancer center
Following a national search, Roswell Park Comprehensive Cancer Center has promoted Pawel Kalinski, MD, PhD, to Jacobs Family Endowed Chair of Immunology, Chief of the Division of Translational Immuno-Oncology and Senior Vice President for Basic Science.
On staff at Roswell Park since 2017, this sought-after physician-researcher has helped to elevate both the profile and potential of Roswell Park's immuno-oncology team. Dr. Kalinski has previously served as Vice Chair for Translational Research, Director of Cancer Vaccine and Dendritic Cell Therapies, Rustom Family Endowed Professor for Molecular Therapeutics and Translational Research and Co-Leader of the Tumor Immunology & Immunotherapy Program.
"The work Dr. Kalinski leads is stunning in its scope, its uniqueness and its potential for improving patient care and survival," says Candace S. Johnson, PhD, President & CEO and M&T Bank Presidential Chair in Leadership at Roswell Park. "We look forward to seeing all that he will accomplish and the achievements he will inspire our team to realize."
Dr. Kalinski directs a portfolio of more than $22.5 million in active grants. These include a $14.5 million award from the National Cancer Institute for a multicenter collaboration supporting five separate collaborative clinical trials and a $6.42 million project that's part of a larger U.S. Department of Defense Breakthrough Award, led by Dr. Kalinski himself, which supports two clinical trials.
"We could not attract and keep talent of this caliber without the support of community leaders like the Jacobs Family, who created the endowment supporting this area in 2007, and we acknowledge a deep debt of gratitude to them for their long support of immunology innovators at Roswell Park," says Dr. Johnson.
Dr. Kalinski is a graduate of Warsaw Medical Academy in Poland and the University of Amsterdam in the Netherlands. He is active in the American Association of Immunologists, American Association for Cancer Research, Society for Immunotherapy of Cancer and American Society of Clinical Investigation, a prestigious medical honor society.
An online version of this release is available on our website.
Roswell Park Comprehensive Cancer Center is a community united by the drive to eliminate cancer's grip on humanity by unlocking its secrets through personalized approaches and unleashing the healing power of hope. Founded by Dr. Roswell Park in 1898, it is the only National Cancer Institute-designated comprehensive cancer center in Upstate New York. Learn more at http://www.roswellpark.org, or contact us at 1-800-ROSWELL (1-800-767-9355) or ASKRoswell@RoswellPark.org.