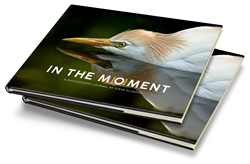 MYRTLE BEACH, S.C. (PRWEB) November 09, 2020
Wildlife photographer Steve Ellwood has spent thousands of days in the prone position perfecting the art of ground-level shooting, inching his way into the confidence of wary shorebirds and wading birds throughout coastal South Carolina and Florida. Now, after decades of painstaking attention to his craft, Steve has brought together nearly 200 of his most powerful images in his new book: In the Moment: A Photo Journal by Steve Ellwood.
The book is an 80-page, limited edition collection of beautiful images gathered from the beaches, tidal marshes and maritime forests of his home state of South Carolina and his favorite haunts along the Florida coast. It is now available at IntheMomentBook.com.
Steve's photos seem to leap off the page – from the startling to humorous, remarkable images of intimate moments in the lives of majestic raptors, delicate hummingbirds, and the occasional clownish goofiness of wading birds, stalking and splashing for prey.
"I like the serenity of being out there, just me connecting with nature," Steve said of his decades trekking the beaches and marshes, through early mornings and fading evenings. "When you have a flock of Snowy Egret approach five feet from you, and they just go about what they're doing, you know you're accepted, you're not a threat. That's when I know I'm doing everything right."
Friend and Chief Meteorologist Ed Piotrowski of WPDE had this to say, "As a nature photography fanatic, I always enjoy seeing photos of our beautiful coastal region. On some occasions, however, I'll see one so captivating that it actually strikes an emotional response. Many of those times, it will be a photo by Steve Ellwood. Steve's talents go far beyond his incredible technical abilities, which are impressive on their own. He has a gift of capturing "the moment" and the raw emotion and intensity of the scene before him, as is so well displayed this amazing collection! We can't put this book down."
The art of the shot is in the planning, Steve explains. It's taken years of experience to learn how to approach natural settings with the proper respect and care plus decades of observing the habits and habitats of different species to absorb a deeper understanding of their behavior.
"Sometimes I have to lie in the sand or mud, just inches above water level, waiting for the birds to arrive near low tide," Steve said. "The process can't be rushed and should always be done with care. I've walked away from great shot opportunities simply because the birds were not comfortable with me being there. There is no photograph more important than the well-being of the birds. When I'm out there, I'm in their home so I behave accordingly. It's important to me that future generations don't miss out on what we have."
Brookgreen Gardens is one of the special places where Steve has spent hours waiting for the perfect moment to get his shot and Lauren Joseph, Director of Marketing for Brookgreen Gardens, had this to say about Steve's work.
"When I first heard the news that Steve Ellwood's truly inspired avian photography was going to be compiled into a book, I was thrilled. Thrilled mostly because more people would have the opportunity to share the emotions that Steve's work invokes. Wonderment and joy are just a couple of the "feels" I get when seeing his work. His love of nature is evident in the images that he is able to capture. To truly experience the fullness of beauty in the natural world, you have to be patient. In our busy lives, Steve is patient for us. He gets the shot we wouldn't sit still long enough to see. At Brookgreen Gardens, we invite people to slow down to enjoy nature and art. We are so glad that Steve chooses to spend some of his time here, and that he is able to capture some of our wild guests enjoying the Gardens as well," Lauren said.
More about Steve's journeys and the special moments he's captured, as well as a collection of fascinating and informative "How I Got The Shot" stories, can be found at InTheMomentBook.com
For more information or to request an interview with Steve, please call Gina Vasselli at 843-448-1123 or email gvasselli@lhwh.com
For high resolution versions of the images in this release, click here.