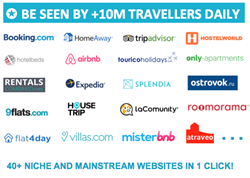 We plan to expand rapidly and are excited to work with Rentals United to help us reach our goals.
London, UK (PRWEB) May 21, 2016
Rentals United (http://rentalsunited.com) is pleased to announce a new partnership with onefinestay, a London-based hospitality company that was recently acquired by AccorHotels for $240 million. Rentals United will be the channel manager for the luxury homes managed by onefinestay, helping to distribute their 2600 properties to 40+ mainstream and niche channels.
"We've assessed a number of different channel managers over the last 3 months" says Marilena Zagana, Director of Distribution Partner Marketing at onefinestay, "Rentals United came clearly on top both in terms of their pro-active team and their technology. We' plan to expand rapidly and are excited to work with Rentals United to help us reach our goals."
Rentals United, a distribution platform for vacation rentals, helps property managers and owners secure maximum reach across a wide-network of booking sites such as vacation rental websites (HomeAway family of sites for example), hotel reservation websites (such as Booking.com, Agoda, Splendia and more), Wholesalers (Tourico Holidays, Rentals Combined) and Meta Searches (Tripping).
Travellers using these sites to book their accommodation in London will now also have access to the inventory of onefinestay via the technology that Rentals United provides. "We're very proud to be the distributor of such quality vacation rentals", says James Burrows COO at Rentals United, "onefinestay is a leader in luxury homestay vacation experiences."
ABOUT RENTALS UNITED
Rentals United is a channel manager for vacation rentals. The cloud-based software distributes availability, pricing, property information and photos in real-time onto 40 channels, both niche and large.
A recent survey by Rentals United shows that property managers and owners using the platform save time (20hrs per month average) and make more bookings (5-50 more bookings depending on the size of their portfolio).
Established in 2013 by the founders of some of the leading vacation rental agencies, Rentals United is currently expanding their operations on all five continents.
For any press related enquiries please email Vanessa de Souza Lage vanessa [at] rentalsunited.com
ABOUT ONEFINESTAY
onefinestay is pioneering handmade hospitality by offering guests the chance to stay in the finest homes, in the world's greatest cities, while the owners are out of town. The selection of homes ─ each of which has been seen and selected by onefinestay's team in their search for space, character and comfort ─ ranges from playful townhouses to curious brownstones. They're attentively tended, with a friendly face to meet you, beds made with pristine sheets, the towels and toiletries taken care of to exacting standards, and an iPhone for local calls, data, and 24/7 guest services. The ever-growing portfolio of welcoming homes currently spans London, New York, Paris, Los Angeles and Rome. For more information, visit http://www.onefinestay.com.