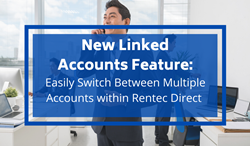 "Bold innovation and forward-thinking are at the heart of Rentec Direct's company culture," said Rentec Direct President, Nathan Miller. "Our goal is to find creative developments to solve common problems, and increase efficiency and success for our clients wherever possible."
GRANTS PASS, Ore. (PRWEB) March 11, 2020
Rentec Direct, the highest-rated property management software solution, recently announced a new linked accounts feature for users of its platform. Rentec Direct is currently the only property management software on the market that allows users to easily and securely switch between multiple accounts within the software. This means that landlords and property managers who manage properties and tenants across multiple accounts can now access all of their data from one primary portal.
"Bold innovation and forward-thinking are at the heart of Rentec Direct's company culture," said Rentec Direct President, Nathan Miller. "We are continuously improving and updating our software based on real client feedback and requests. Our goal is to find creative developments to solve common problems, and increase efficiency and success for our clients wherever possible."
The new linked accounts feature allows Rentec Direct clients to link multiple secondary accounts under one primary account, enabling access to all accounts using a single login. This means that linked accounts can be quickly accessed without needing to log in and out of accounts, giving users instant access to the data they need.
As with most of its feature upgrades, this latest development came about due to the company's commitment to customer service and client satisfaction. Many Rentec Direct users have more than one account within the system, and directly requested easier access to save time and increase efficiency. The company's in-house software development team created a streamlined solution to fill the gap and many clients have already adopted the feature with high success rates.
To learn more about the new linked accounts feature, visit: https://www.rentecdirect.com/blog/multiple-account-logins/.
About Rentec Direct
Rentec Direct offers industry-leading property management software and tenant screening solutions for real estate professionals. Features include online rent payments, tenant and owner portals, the industry's largest vacancy listing syndication network, full property, tenant, and owner accounting, 1099-MISC reporting and more. Rentec Direct received the Real Estate Company of the Year Award in the 2019 American Business Awards, has been named to the Inc. 5000 List of Fastest-Growing Private Companies for three years in a row (as of 2019), and was also included on the 2017, 2018 and 2019 Entreprenuer360 list for Best Entrepreneurial Companies in America. http://www.rentecdirect.com