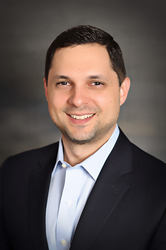 "Today, Renters Warehouse is the largest, corporate-owned, single-family rental property management company in the country to offer this unique service, that didn't exist just a couple of years ago," Anthony Cazazian, Chief Investment Officer and President of Portfolio Services
EDEN PRAIRIE, Minn. (PRWEB) December 04, 2018
Renters Warehouse, one of the largest and highest reviewed property management companies in the country, is thrilled to announce that its Chief Investment Officer and President of Portfolio Services, Anthony Cazazian, has been named a 2018 HousingWire Vanguard.
This is the fourth year that HousingWire has recognized executives in the housing finance industry for their outstanding leadership in the space. "As the Vanguards award program continues to grow and to be more successful, the entry point gets tighter. These winners are truly the best Vanguards in the mortgage finance industry, and they all deserve the highest honor in the space," said HousingWire Editor-in-Chief Jacob Gaffney.
Cazazian was recognized as a Vanguard for his part in Renters Warehouse solving a growing problem facing the single-family rental industry by creating the largest corporate-owned property management company focused on the asset class. With centralized services and standardized national processes, Renters Warehouse can now provide an investor with a single point of contact to quarterback the management of their single-family rentals across 40+ markets in a very efficient structure.
"Over the last 12-18 months, we have been able to successfully open 12 new markets, execute seven acquisitions and build our new Portfolio Services division which now represents a significant portion of our units under management," shared Cazazian. "Today, we are the largest, corporate-owned, single-family rental property management company in the country to offer this unique service, that didn't exist just a couple of years ago. I'm very honored to be recognized as a Vanguard on behalf of Renters Warehouse for our success in creating this offering."
HousingWire's 2018 Vanguards have led their respective companies to spectacular success, as evidenced by expanding products, services, and profits. These 52 winners were carefully selected by HousingWire's editorial board, chosen for their vital contributions to their companies and the dynamic way they are changing the industry. The majority of winners are leading from the C-suite, and many are also founders or co-founders of their businesses. Others are making invaluable contributions in business development, strategy, risk management and more.
Renters Warehouse exists to help homeowners and investors create wealth and financial freedom through Rent Estate™. To learn more about Rent Estate, visit http://www.rentestaterevolution.com.
-30-
About HW Media
HW Media is the leading digital community for real estate, financial services and fintech professionals to engage, connect and gain knowledge. Founded in 2016 through the acquisition of HousingWire, HW Media is based in Dallas, TX with team members across the country. HW Media is owned by Riomar Capital.
About HousingWire
HousingWire is the most influential source of news and information for the U.S. mortgage and housing markets. Built on a foundation of independent and original journalism, HousingWire reaches over 40,000 newsletter subscribers daily and over 4 million unique visitors each year. Our audience of mortgage, real estate, financial services and fintech professionals rely on us to Move Markets Forward. Visit http://www.HousingWire.com or http://www.solutions.housingwire.com to learn more.
About Renters Warehouse
Renters Warehouse is one of the fastest growing and highest reviewed residential property management companies in America. Backed by growth equity investor and majority stakeholder Northern Pacific Group, and under the leadership of President and CEO Kevin Ortner, Renters Warehouse now manages more than $3 billion in residential real estate, servicing over 14,000+ investors across 22,000+ residential homes over 42 markets and 25 states. NPG Managing Partner Scott Honour, who in 1999 was a founder of YapStone, a leading online rental property payment service provider, serves as Chairman.
Renters Warehouse expertly serves everyday single-property homeowners as well as real estate investors. In 2015, the company officially trademarked the term Rent Estate™ to redefine the entire SFR (Single Family Rental) industry as more traditional real estate gives way to this new lucrative asset. Through their dedicated Portfolio Services Division led by Chief Investment Officer Anthony Cazazian, the company also brings professional, scalable and efficient single property management solutions to investment portfolios with both centralized services and local market expertise and staff. Not only has Renters Warehouse received the prestigious honor of being included on the Inc. 500 | 5000 list of fastest-growing privately held companies in America eight consecutive years in a row, it was also named one of the "Best Places to Work" in Minnesota (where they are headquartered) by the Minneapolis St. Paul Business Journal in 2010, 2011, 2012, 2014, 2015 and 2016. The company was also honored as a best place to work in Arizona (a centralized corporate services center) by the Phoenix Business Journal in 2013, 2014 and 2017, and achieved a spot on the prestigious 2016 Top Companies to Work for in AZ list. Nationwide, Renters Warehouse has been honored as one of America's "Best Places to Work" in 2012, 2014, 2015 and 2016 by Outside Magazine. Recognized as pioneers in real estate, business management and innovation, Renters Warehouse has been awarded 22 Business Stevie Awards both internationally and stateside.
In 2017, Renters Warehouse received an "A" rating from the Better Business Bureau (BBB) after meeting the BBB's eight Standards of Trust and earning BBB Accreditation. In 2016, Morningstar Credit Ratings, LLC, a nationally recognized statistical rating organization (NRSRO) offering a wide array of services including operational risk assessments, assigned its MOR RV2 residential-vendor ranking to Renters Warehouse as a residential property manager, indicating that the company demonstrates proficiency in managing key areas of operational risk.
In 2017, Renters Warehouse published its first book - Rent Estate™ Revolution. Authored by CEO Kevin Ortner, the book shares the Renters Warehouse philosophy and business expertise around single-family rentals and the power of Rent Estate to drive long-term wealth creation, retirement security and financial freedom for the everyday person. Order your copy today: http://www.rentestaterevolution.com.
Media Inquiries / Interviews:
Crystal Richard
Public Relations
crystal(at)renterswarehouse.com