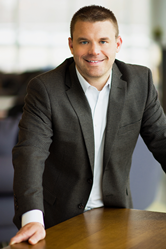 "The past year has been a year of incredible growth for us at Renters Warehouse as we created an entirely new category in real estate by changing how people invest with our new investor marketplace." - Kevin Ortner, CEO of Renters Warehouse
EDEN PRAIRIE, Minn. (PRWEB) June 04, 2019
Renters Warehouse, America's leading real estate investment services company, is thrilled to announce that its CEO and President, Kevin Ortner, has been named a 2019 HousingWire Rising Star.
On June 3rd, 2019 HousingWire announced its Rising Stars list of young leaders to watch in the industry. This is the sixth year that HousingWire has recognized the innovative talent that is propelling the housing industry forward, and the nominations grow more competitive every year.
"It's an honor to be recognized by HousingWire as one of its 2019 Rising Stars," shared Ortner. "The past year has been a year of incredible- - growth for us at Renters Warehouse as we created an entirely new category in real estate by changing how people invest with our new investor marketplace. I'm excited to continue inspiring more leaders of tomorrow to discover the power of real estate to drive their own dreams forward."
HousingWire's 50 winners represent a variety of occupations within the housing industry, but all of them demonstrate leadership and innovation that inspire not only those within their own organizations, but also in their communities and in the industry at large.
"The Rising Stars represent the best young leaders in the mortgage industry," said Kelsey Ramírez, Associate Editor of HousingWire. "Their impressive list of accomplishments make these young professionals the leaders of their industries, and their future is bright. I can't wait to see what they accomplish next."
Rising Stars statistics:

50 winners and the 6th annual list.
Every sector of the housing economy represented: residential mortgage lending, servicing, investing and real estate, as well as those in advocacy positions, including nonprofits and governmental agencies.
Chosen by HousingWire editorial staff based on tangible accomplishments in the last 12 months.
"This year's group of Rising Stars represents a rising generation of strong, innovative and motivated leaders taking the mortgage industry by storm. Each of these individuals has accomplished a great deal, but we believe they are still at the early stages of their ultimate impact on the housing economy," said Clayton Collins, CEO of HousingWire.
From property management to investment strategies to rental listings, Renters Warehouse is the largest, full-service "Rent Estate™" resource of tenanted properties in the nation and the only property management company focused on single-family rentals to be rated by Morningstar Credit Ratings, a nationally recognized statistical rating organization. Since acquiring OwnAmerica in December 2018, renters can find quality homes to lease, and investors can plan, research, buy, track and sell their real estate investments all in one place with the Renters Warehouse investor marketplace. To learn more about Renters Warehouse, visit http://www.renterswarehouse.com.
About HW Media
HW Media is the leading digital community for mortgage, real estate and FinTech
professionals to engage, connect and gain knowledge. Founded in 2016 through the
acquisition of HousingWire, HW Media is based in Dallas, TX with team members across the
country. HW Media is owned by Riomar Capital.
About HousingWire
HousingWire is the most influential source of news and information for the U.S. mortgage
and housing markets. Built on a foundation of independent and original journalism,
HousingWire reaches over 50,000 newsletter subscribers and over 5 million unique
visitors each year. Our audience of mortgage, real estate, and FinTech professionals rely on
us to Move Markets Forward.
Visit http://www.HousingWire.com or http://www.solutions.housingwire.com to learn more.
About Renters Warehouse
Renters Warehouse is America's leading real estate investment services company and one of the fastest growing and highest reviewed residential property management companies in America. Under the leadership of CEO Kevin Ortner, it is the only property management company focused on single-family rentals to be rated by Morningstar Credit Ratings. In addition to its national investor marketplace dedicated to the buying and selling of investment properties, Renters Warehouse manages more than $3 billion in residential real estate, servicing over 14,000+ investors and 22,000+ residential homes across 42 markets. It is a nine-time honoree of the prestigious Inc. 500|5000 list of the fastest growing privately held companies in America and has been awarded 22 Business Stevie Awards both internationally and stateside. To learn more about Renters Warehouse, visit http://www.renterswarehouse.com.