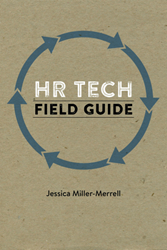 Baton Rouge, Louisiana (PRWEB) November 06, 2014
Rep Cap Press, the digital publishing arm of Reputation Capital Media Services, has released "HR Tech Field Guide," an e-book written by human resources veteran Jessica Miller-Merrell, president and CEO of Xceptional HR and editor and chief blogger of Blogging4Jobs.
The guide is intended for HR executives, CFOs and CTOs who are researching types of HR technology to purchase and implement at their companies. The guide is also a resource for technology startup leaders in the HR marketplace, to help them understand where their solution fits into the market.
"HR Tech Field Guide" breaks down HR technology systems by the six stages of the employee life cycle -- recruitment, selection, performance, succession, development and transition -- and identifies popular solutions and areas of growth in each category
"HR practitioners and senior leaders need technology to help them better understand, manage, organize and analyze their human capital investments," Miller-Merrell says.
"While most leaders recognize this need, many are easily overwhelmed by the HR tech options available and have a hard time pinpointing the ones that will best fit their organizations' needs," Miller-Merrell explains. "I wrote 'HR Tech Field Guide' to help them get started."
"After the success of our first e-book, 'I Am HR: 5 Strategic Ways to Break Stereotypes and Reclaim HR' by Laurie Ruettimann, we're excited to publish our second e-book with Jessica Miller-Merrell," said Reputation Capital CEO Mary Ellen Slayter. "This guide will be a big help to leaders who need to quickly understand the HR tech industry and select the right solutions for managing their workforces."
"HR Tech Field Guide" is available for download on Amazon, the iTunes Store and Barnes & Noble.
Reputation Capital Media Services is a content marketing agency that helps B2B companies and their marketing agencies produce high-quality digital content, including blog posts, email newsletters, white papers, e-books and multimedia. Our editors and writers are experts in their fields, which include HR technology, employee benefits, financial services, health care, trade associations and accounting.