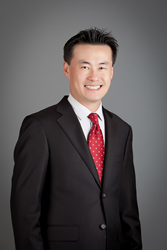 SANTA ANA, Calif. (PRWEB) November 12, 2018
Board-certified periodontist Dr. Jin Y. Kim, with two locations in Diamond Bar and West Garden Grove, is welcoming individuals with multiple missing teeth in Santa Ana, CA and surrounding areas, who want to explore permanent, long-term replacement options that can be received in just one day. Using decades of experience, Dr. Kim regularly helps patients get the advantages that come with All-on-4® dental implants as an alternative to traditional dentures.
Per figures from the American College of Prosthodontics, about 36 million individuals countrywide have no remaining teeth. While nine out of 10 have dentures to allow them to speak and eat, dentures can be fraught with problems. For instance, many people who have removable denture appliances complain of dentures falling out, clicking, fitting inappropriately and looking unnatural. Additionally, certain foods are not compatible with dentures, which can create nutritional deficiencies and social embarrassment for denture wearers.
To combat these problems and provide a long-term and convenient solution, Dr. Kim regularly works with patients interested in being considered for All-on-4 dental implants. The All-on-4 system involves surgical placement of four dental implant posts at strategic points throughout the edentulous jaw. After placement, a permanent denture prosthetic is locked into place, anchored by the posts. The prosthetic offers a lifelike appearance and fully restored function for the patient.
Dr. Kim relies on a variety of leading-edge processes and equipment to achieve exceptional results when placing All-on-4 dental implants. This includes computer-guided placement, a process that reduces the likelihood of errors and increases the overall success of the procedure. In addition to All-on-4 dental implants, the periodontist also offers tooth extractions, bone grafting and other leading-edge solutions.
Those living with missing teeth in Santa Ana, CA, or those who are simply tired of loose dentures, can contact Dr. Kim's Diamond Bar location at 909-860-9222 or his West Garden Grove facility at 714-898-8757 to arrange for a no-obligation consultation.
About the Periodontist
Dr. Jin Y. Kim is a periodontist dedicated to providing personalized dental care in Diamond Bar and Garden Grove, CA. Dr. Kim attended the University of Sydney Faculty of Dentistry before furthering his education with an advanced degree in pathology from the Medical School of the same University. Dr. Kim completed a periodontics and implant surgery residency at UCLA School of Dentistry and is board-certified by the American Board of Periodontology and the American Board of Oral Implantology/Implant Dentistry. He is a past president of the Western Society of Periodontology and was also inducted to be a Fellow of the prestigious American College of Dentists and earned Fellowships in the International Congress of Oral Implantologists and the American Academy of Implant Dentistry. Dr. Kim lectures and holds faculty positions at a number of universities including UCLA School of Dentistry and abroad. He has spoken at no less than 36 different countries across the globe as well as national and international academic and clinical associations and universities including the International Association of Dental Research, American Academy of Periodontology and Academy of Osseointegration. To learn more about Dr. Jin Kim and the services he offers, visit his website at http://www.drjinkim.com or call 909-860-9222 for the Diamond Bar location or 714-898-8757 for the West Garden Grove location to schedule an appointment.