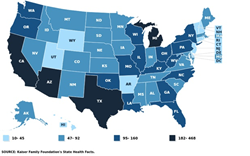 FALLS CHURCH, Va. (PRWEB) April 24, 2019
A national workforce assessment released by the American Psychiatric Nurses Association (APNA) today warned that a shortage of qualified professionals trained to provide timely and effective treatment for mental health and substance use disorders presents a growing threat to Americans' mental health – including the wellbeing of millions of children and adolescents – who increasingly encounter a lack of access to care at a time when suicides and opioid addictions are on the rise nationwide.
"Approximately 56 million American adults are struggling with a mental illness or substance use disorder impacting just about every community and family in some significant way," said APNA president Gail R. Stern, RN, MSN, PMHCNS-BC. "Despite the urgent need, the supply of skilled, educated and trained mental health professionals has not been able to keep up with growing demand adding an additional barrier to addressing these illnesses. As a result, we recommend that the nation's experienced psychiatric-mental health nursing workforce be allowed to practice to the full extent of their education and training to expand patient access to quality mental health and substance use treatment."
Current statistics underscore warnings by APNA and the U.S. Department of Health and Human Services (HHS) about the current mental health workforce shortage, which is projected to grow, leaving the country 250,000 professionals short of the demand by 2025.
Today, only 44 percent of adults and 20 percent of children and adolescents in the U.S. receive the mental health and substance use care they need, and when a mental health condition is identified, treatment is often delayed – on average 6 to 8 years for mood disorders and 9 to 23 years for an anxiety disorder. Less than half of those affected by the most common mental health condition – co-existing depression and substance use – ever receive mental health or substance use treatment. This lack of treatment significantly contributes to suicide, now one of the leading causes of death in the U.S.
With the release of its latest report, APNA is advocating for mental health education and training resources for all current and aspiring nursing professionals, along with expanded utilization of psychiatric-mental health (PMH) nurses within the field of mental health care.
PMH registered nurses (RNs) and advanced practice registered nurses (APRNs) represent the second-largest group of behavioral health professionals in the nation.
These rigorously trained nurses practice according to high quality licensing and credentialing standards, providing professional mental health and substance use services to patients in a wide variety of health care settings all across the nation.
PMH nurses also represent one of the fastest-growing, non-physician specialties in health care and currently face incredibly high demand for their services. There has been a 58 percent increase in psychiatric RN job openings and a 17 percent increase in psychiatric APRN job opportunities from 2014 to 2015.
"We know that mental health is absolutely foundational to overall health and wellness," said Stern. "Mental health and substance use disorders are directly linked to community issues such as homelessness, lower educational achievement and legal problems. PMH-RNs and APRNs have both the skills and qualifications to help expand access to quality mental health care. As a result, we must expand utilization of PMH nurses so their work more accurately reflects their skill level and training, and work to attract more nurses into PMH focus areas to improve timely, nationwide access to effective mental health care."
About the American Psychiatric Nurses Association
The American Psychiatric Nurses Association is a national professional membership organization committed to the specialty practice of psychiatric-mental health nursing and wellness promotion, prevention of mental health problems and the care and treatment of persons with psychiatric disorders. APNA's membership is inclusive of all psychiatric mental health registered nurses including associate degree, baccalaureate, advanced practice (comprised of clinical nurse specialists and psychiatric nurse practitioners), and nurse scientists and academicians (PhD). APNA serves as a resource for psychiatric mental health nurses to engage in networking, education, and the dissemination of research.
To learn more about a career as a psychiatric-mental health RN, click here.
To learn more about a career as a psychiatric-mental health APRN, click here.