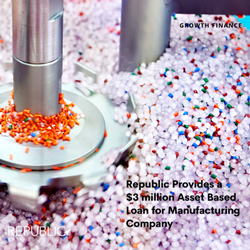 We appreciated that Republic's leadership team got into the weeds with us to make sure we properly structured the credit.
NEW ORLEANS (PRWEB) November 03, 2021
When a Midwest-based private equity-owned promotional products manufacturer was getting back to business following the pandemic, their regional bank wanted to limit their access to working capital. Despite returning to profitability this year and being a committed gulf region-based private equity sponsor, they partnered with Republic Business Credit to refinance their credit facility.
In addition to their expected growth as tradeshows return, their existing customers came roaring back with larger than normal orders as they feared potential supply chain complications down the road. The company sought a growth-orientated Asset Based Loan (ABL) facility that would unconditionally support their growth and post covid business renewal plans.
The company is a promotional products manufacturer that services large fortune 1,000 companies across the automotive, technology, finance, energy, and retail industries throughout the US. The company specializes in custom manufacturing, typically a wide variety of products and solutions throughout the year as needs evolve. Additionally, they have recently vertically integrated several supply chain services to supplement their product manufacturing by adding value to their warehousing, fulfillment, and distribution support.
The business needed to refinance its existing bank line of credit in order to accelerate its growth and product development plans. The company CEO said, "We needed a finance source that could react decisively, consistently and enjoyed being part of our story as we explore several growth options across our product range during a challenging economic period," and a managing partner from the private equity sponsor added, "Republic has delivered on their promises so far as this is our first portfolio company partnership together, we appreciated that Republic's leadership team got into the weeds with us to make sure we properly structured the credit"
Republic Business Credit provided a $3 million asset-based loan facility secured by accounts receivables that refinanced their incumbent bank lender and provided significantly more borrowing base availability at closing. Republic was introduced to the opportunity directly from the private equity fund as a result of our reputation within the private equity community for lower and middle-market sponsor-owned ABL facilities. Republic's President, Robert Meyers, said, "We are focused on providing ABL, direct to consumer loans and factoring to private equity owned companies across the country," he further added, "Our team worked with the Company to structure a growth-orientated facility that provided significantly more liquidity to enable the management team to focus on growth." Republic's CEO, Stewart Chesters added, "Since our founding, we have always been committed to providing broad and inclusive access to working capital to lower and middle-market companies that seek a better partnership than a traditional loan structure will provide."
Republic Business Credit partners with banks, accountants, sponsors, lawyers, and investment banks to collaboratively support entrepreneurs across the United States, to create value, by enabling them to focus on growing successful businesses. Republic's CEO, Stewart Chesters further added, "We believe our suite of lending and factoring products will be more in demand as companies emerge from the fog of covid and get back to growing."
---Boilerplate---
Republic Business Credit provides fast and flexible working capital solutions to help rapidly growing businesses, start-ups, and companies in turnaround or recoverable distressed situations. Winner of the Emerging Growth Company of the Year award from the Louisiana Chapter of the ACG, and the FactoringClub's Best Factoring Company Award for 2018, the Republic Business Credit team has the expertise necessary to meet the nuanced financial needs of companies across a wide variety of industries. It provides asset-based loans, ledgered lines of credit, non-recourse factoring, factoring, and direct-to-consumer loans including e-commerce working capital. Since its founding in 2011, Republic Business Credit has provided over $10 billion in working capital.