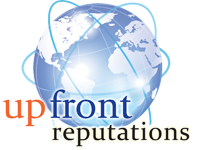 We hired Upfront Reputations after one of our competitors engaged in a massive smear campaign. They had spread lies everywhere about our company. Upfront Reputations was able to clear it up in record time and get us back to a positive standing on Google.
Orange County, California (PRWEB) August 03, 2013
In a recent study, done by a third-party affiliate via Survey Monkey, 9 out of 10 clients preferred working with Upfront Reputations over other reputation management companies. The clients, all of whom had worked with at least one other reputation management company prior to working with Upfront Reputations, indicated that Upfront Reputations had done a more thorough job and the majority indicated that their online sales had improved.
One portion of the study that asked about the client's own search online for a reputation management company revealed the irony that most reputation management companies that claim to remove all negative content, in fact, have negative content online about them. Not a single client that responded to the study indicated that they found any negative information on Upfront Reputations.
The study was conducted by a contracted third-party survey company on behalf of Upfront Reputations. The survey was conducted from June 14 to July 24 via email correspondence using Survey Monkey.
Upfront Reputations is the Internet's premier online reputation management and negative information removal company. On the Internet, a negative comment or reputation-killing content is guilty until proven innocent. Even if the accusations are baseless, they can have a devastating effect.
"We have worked with hundreds of companies to remove negative content from Google. Very often there is so much unjustified negative content that the positive information about the company can't get through. We remove the negative and optimize the positive, allowing the good information about your company rise to the top." – Upfront Reputations
Located in Orange County, California, in the heart of the information and reputation management capitol of the world, Upfront Reputations understands how Google ranks information, knows how to get it removed and knows how to keep it off search engines. They also clearly understand the interaction between reputation-damaging websites and social media, allowing them to stop the viral spread of disinformation about a company.
Upfront Reputations will identify negative information, present the prospective client with all of the information needed to make a decision and present them with a removal plan. They not only can predict the results, but they will guarantee them.
Over 97% of all purchases begin with an Internet search and of those, 85% will begin on Google. Upfront Reputations is proven to help companies improve their search results by removing the content that steers customers away.
Upfront Reputations goes toe to toe with all of the largest complaint sites, including Ripoff Report removal, Complaints Board and Pissed Customer, among others. Websites like these were originally set up to allow people to warn others about unscrupulous businesses. Today, some people and businesses use these websites to destroy competition.
Not only will Upfront Reputations reputation management services remove the negative content, but they will add positive, honest content that they will then optimize and promote to Google and other search engines. By putting in new, positive information, Upfront Reputations is able to elevate the company's overall reputation faster and more completely than simply removing negative information.
Upfront Reputations will clean up their client's online identity in order to ensure a positive reflection of them and their business. Their multi-step process of search, defamation or mugshot removal, suppression, and replacement with positive content will allow clients to feel secure that their online profile represents them well. They attack the link that is causing their client or their client's business harm while promoting Upfront Reputation's positive content to the top of the search engines. Upfront Reputations is ready to immediately correct all of their client's Internet reputation problems.
If you would like more information about this topic, please visit us at http://upfrontreputations.com at 888-388-8480 or email at support(at)upfrontreputations(dot)com.