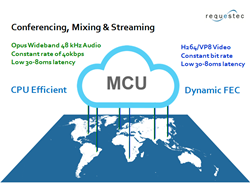 Requestec can mix the audio from WebRTC, Flash and SIP into a single Opus stream.
San Francisco, USA (PRWEB UK) 19 November 2013
The Zenon MCU can now mix Opus with other audio codecs to form a single, low latency, low bandwidth stream capable of connecting participants in all continents of the world in a very clear conversation with no noticeable delays or loss of volume. "As far as we are aware, competitors in this space are only mixing WebRTC G711, which at 8kHz is not good enough for many applications including language learning or business-critical communications," says Requestec's Head of Business Development, Marek Zwiefka-Sibley.
Requestec can mix the audio from WebRTC (Opus), Flash (Speex) and SIP (SILK, G7xx etc) into a single stream and conference participants get the best possible experience because they only need sufficient bandwidth for a single download connection. Comparatively, SVC technology sends an additional audio stream for every conference member which means that in low bandwidth or congested wifi environments the quality is impaired. Ben Weekes, CTO of Requestec says, "While we look forward to SVC coming to WebRTC with VP9, we don't believe that the SVC architecture is right for many deployments. It makes sense for mass-market free services where the service provider's CPU is the bottleneck, but for premium services such as education and health where customer satisfaction at any bandwidth is the priority, then mixing the codecs into a single stream provides the best experience. The same is true and applicable to video codecs and the formation of a composite view. One of the main problems of the composite view, which shares the encoding session across members to conserve cpu, is that you see yourself in the view with a slight delay which can be off-putting. To avoid this, we share the coordinates of the user's own video in the conference such that their client can overlay the local video on top so they see their own video at the exact position others see them but without the slight delay."
Requestec were recently tested by a leading online language school with students in different countries around the world, and the mixing of Opus audio stood out as the best solution. This is largely due to the high packet loss and low bandwidth environments which are common in some parts of the world and all busy wifi areas. This led Requestec to realize that no WebRTC gateway had implemented dynamic FEC to handle video packet loss on high packet loss connections. Rather than requesting lost packets (NACK) which leads to noticeable jerks in the video, the encoding end is instructed to duplicate some of the packets it sends in a profile consistent with its connection's packet loss characteristics. This removes the need for constant NACKing and produces a smooth experience on high packet loss networks..
Requestec have now added support for FEC and are pleased to report that even in multi-party conference calls between countries as far apart as China, the UK and the USA, the WebRTC audio and video can be near perfectly smooth.
For more information about Requestec, please click here: http://www.requestec.com.
About Requestec:
Requestec has been delivering Video Calling, Conferencing and IVR software solutions since 2005. Through our flagship product, the Zenon Real-Time Communications Gateway, we connect users on the web, and on iOS and Android devices, to services and agents in high quality live video and audio. We embrace the open standards surrounding video calling from H.323 and SIP through to WebRTC, Flash and HTML5, and provide development, consultancy and integration services to financial institutions, healthcare providers, educators and telecoms operators around the world.