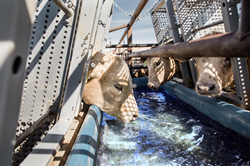 "Collaboration and research are cornerstones to promoting proper land stewardship and regenerative agriculture. A producer who is profitable will make decisions focused on regenerating their land."- Steve Rhines, Noble Research Institute president and chief executive officer
ARDMORE, Okla. (PRWEB) February 04, 2020
Noble Research Institute, LLC and GrowSafe Systems Ltd. have entered into a new research agreement that aims to improve efficiency in cattle production and aid ranchers in making management decisions.
The new research collaboration extends a partnership between Noble and GrowSafe that dates back to 2010.
The five-year research commitment embarks on three sequential studies to standardize methods of measurement, demonstrate selection for residual feed intake (RFI) in both dry lots and pastures, and integrate databases spanning from land stewardship to producer profitability.
The three studies include:
1. Validate the use of GrowSafe Beef Units on‐pasture for weighing both cow/calf pairs and stockers: Noble Research Institute will solidify the use of GrowSafe Beef for measuring partial body weight and conversion to full body weight with cattle in various stages of physiological production in pasture settings.
2. Identify measurable and predictive selection traits for forage efficiency in beef cattle: Using GrowSafe Beef, this study will demonstrate feed efficiency in beef cow-calf pairs, spring-calving cows and replacement heifers consuming grass hay diets and grazing in two different forage systems subject to grazing management to improve pasture soils.
3. Develop and integrate automated plant‐animal‐soil data streams to support decision tools: This study will develop decision-support tools to enhance optimal forage management practices and marketing of stocker cattle. Additionally, the study will broaden understanding of the economic relationships between forage biomass, nutrient fluctuation/soil health and animal weight.
The research will focus on the use of GrowSafe Beef. These in-pen weighing units non-invasively measure individual animal partial body weights and watering behavior while animals drink at a water trough. The technology weighs every second an animal is standing at the trough, which can mean an average of 45 weights, 8-10 times per day.