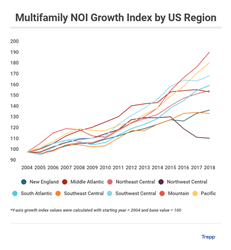 "As the affordability of single-family homes continues to decline and preferences for renting over homeownership surges, the multifamily sector remains to be a segment of commercial real estate that showcases the strongest growth in recent years."
NEW YORK (PRWEB) November 22, 2019
Trepp, LLC, a leading provider of information, analytics, and technology to the structured finance, commercial real estate, and banking markets, has released its research report titled "What Factors Have Driven Multifamily NOI Growth?" The full report can be downloaded here: https://info.trepp.com/multifamily-noi-research-november-2019-pr.
To determine the effect of shifting market factors on the multifamily market's performance, Trepp ran an analysis on the net operating income (NOI) levels of outstanding multifamily loans and segmented our results by property subtype, geographic region, occupancy, and agency and non-agency performance.
"As the affordability of single-family homes continues to decline and preferences for renting over homeownership surges, the multifamily sector remains to be a segment of commercial real estate that has showcased the strongest growth in recent years," said Trepp Research Associate, Catherine Liu. "Particular submarkets have been benefiting from current geographic and demographic changes, as well as emerging trends in population migration."
Multifamily has maintained the strongest momentum of growth in the years following the financial crisis; more than any other property sector. Based on monthly remittance data, the average annual occupancy on outstanding multifamily loans trended up modestly in 2018 when compared to 2017, while the overall occupancy for all property types posted a year-over-year dip.
In terms of reported NOI: multifamily operating income grew by 2.66% in 2018 (roughly in line with 2017's annual increase of 2.70%), the highest among the five major property types behind only industrial's 3.2% growth rate. By comparison, the percentage for all property sectors was 1.62% last year, up slightly from 1.48% in 2017. This bodes well for multifamily operators that saw an increase in occupancy and operating income in 2019 which should translate to higher market valuations of those assets.
For a closer look at the sector's performance by geographic region, Trepp examined its database of consecutive year-end financials on 23,479 private-label multifamily loans across the nine census divisions delineated by the US Census Bureau. Overall, Western and Southern US regions continue to exhibit the highest growth due to current migration patterns, one of the major drivers of housing demand.
For additional details, such as a geographic breakdown and analysis of factors impacting the growth in multifamily net operating income, download the Multifamily NOI Report here: https://info.trepp.com/multifamily-noi-research-november-2019-pr. For daily commercial real estate and CMBS commentary, follow @TreppWire on Twitter.