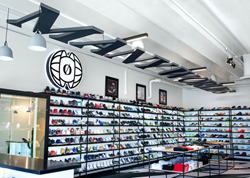 PHOENIX (PRWEB) August 06, 2020
Reshoevn8r Day 2020 is officially set to take place on Saturday, August 8th at 12:00 p.m. PST with quite a different look than fans and clientele are accustomed to amid the coronavirus pandemic. The upcoming virtual event is a free, all-day digital experience in partnership with SneakerCon and Many Worlds that will feature live events and some highly anticipated giveaways. With a full day of digital activations, this year's Reshoevn8r day will also celebrate a milestone for the brand – it's 10th anniversary.
"RE-Day will continue to grow year after year and 8/8 will always be a date to remember," according to Jenesis Laforcarde the brand's Marketing & Partnerships Manager. "We are proud of the exclusive content, massive giveaways, and partnerships that we are able to share with the community, especially during a world pandemic. This is really a celebration for us all and our way of saying thank you to our supporters."
Reshoevn8r owner Steve Grear will begin the celebration by detailing the day's events, including the special giveaways and deals. One of the initial activations of the day will include brand ambassadors Vick Almighty and Jonny Bubbles in what calls for an epic pancake cooking battle. The two will compete in a cooking contest and find out who can replicate the best-looking Air Jordan 1 in the form of a pancake. Participants can tune in to the live feed and vote on who they think won the battle. Guests will enjoy notable appearances from the likes of menswear designer Daniel Patrick with the rare opportunity to get to know him on a personal level.
The Reshoevn8r events will run from noon to 6:35 p.m. and range from sessions featuring some of Reshoevn8r's favorite customizers and influencers, to a tour of Phoenix's newest sneaker store, Many Worlds. The store – which opens in three days – will be the most exclusive sneaker store in Phoenix. Participants will get an in-depth first look at the 700+ pairs of sneakers on display, never before seen Many Worlds gear, and Reshoevn8r's new sneaker laundry drop-off service.
The majority of the sessions will end with a giveaway in which participants can win a wide range of prizes –most of which are exclusive kicks from Many Worlds' sneaker inventory, Vick Almighty's best custom sneakers, and gift cards. Some of the giveaways will require some action prior to Reshoevn8r Day, such as commenting on a YouTube video or social media posts. For a list of ways to enter giveaways, attendees can sign up for the Reshoevn8r newsletter on their website before August 8th.
About Reshoevn8r
Reshoevn8r was founded in 2011 and has sold more than one million units, making the company one of the top premium shoe care brands in the world. Reshoevn8r is 100% all-natural, made with non-toxic ingredients like coconut, jojoba, and other natural oils. Reshoevn8r can be purchased directly on its website and retailers that sell the products include Urban Outfitters, Nohble, Restock, KicksUSA, and many small sneaker boutiques around the country. For more information about Reshoevn8r, visit reshoevn8r.com
To register for the event: (This is how participants will receive reminders), visit: https://www.eventbrite.com/e/re-day-digital-experience-tickets-114177493958
For the YouTube Channel Live Stream: https://www.youtube.com/watch?v=uCA_qtlkGcs&feature=youtu.be