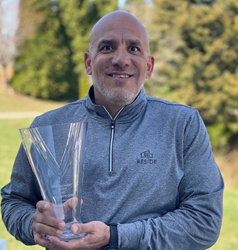 His business acumen, his ability to lead the board through difficult decisions and his willingness to give his time to the organization have kept CHPA strong throughout the pandemic and well-positioned for continued growth going forward. - Mary Ann Passi, CHPA CEO
SEATTLE (PRWEB) April 05, 2021
RESIDE Worldwide, Inc. (http://www.staywithreside.com), a premiere prop-tech and alternative accommodations firm with operations in over 19,000 cities and 60 countries (RESIDE), announced today that its Chief Executive Officer and Co-Founder, Lee Curtis, CCHP, was named the Corporate Housing Providers Association (CHPA)'s 2021 Industry Impact Award winner.
The Industry Impact Award recognizes a professional in the corporate housing industry for their long-term exemplary service and accomplishments for CHPA and the industry in general. Curtis was nominated for the award due to his longstanding involvement with CHPA since 1999, his contributions and leadership to the Board of Directors, his innovative program rollouts, as well as his enduring commitment to community engagement and support of local nonprofits, including Move for Hunger.
Curtis is widely known across the both the organization and the greater corporate housing, alternative accommodation and short-term rental industries, for his long career of continuing thought leadership in the space and extended stints leading various companies in the space. With regard to CCHP, in particular, Curtis has been a pioneer across the association, serving as Chairperson multiple times and launching proactive legislative initiatives to help protect and grow the industry. For example, Curtis spearheaded the innovative development of CHPA Analytics – the industry's first self-contained business analytics platform. It was, his prudent and deft guidance as Chairperson in 2020, an unprecedented time that greatly tested the industry, that ultimately propelled Curtis to this year's iconic award.
"As the board chair in 2020, Lee's leadership was crucial in keeping CHPA agile and responsive to the changing needs of member companies," said Mary Ann Passi, CAE, CEO of CHPA. "His business acumen, his ability to lead the board through difficult decisions and his willingness to give his time to the organization have kept CHPA strong throughout the pandemic and well-positioned for continued growth going forward."
Humbly accepting the award, Curtis thanked his family, friends and colleagues who supported his journey and explained how impactful the corporate housing industry has been on his life, "This career was unexpected, it wasn't by design. This industry has given me way more than I could ever give it. I've tried very hard to give back equally, but it's given me everything. The ability to take care of my family, my parents, the people around me. It's emotional for me, in many ways. It's hard to differentiate between my life and my career because they feel like one intertwined story. The best part is, it never felt like work. It's just been a wonderful conversation and a wonderful experience. I'm grateful to everyone who has been a part of this journey with me."
To learn more about the Corporate Housing Providers Association's 2021 Tower of Excellence Awards visit https://www.chpaonline.org/corporate-housing-providers-association-announces-2021-tower-of-excellence-award-winners/
About RESIDE Worldwide, Inc.
Headquartered in Seattle, WA, RESIDE Worldwide, Inc. is the leading provider of professionally operated and managed global alternative accommodations with a portfolio of premier hospitality and technology brands (ABODA by RESIDE, Broadway Plaza, The Beekman Tower, The Residences at W New York, The Oxford, OnBase Suites and 3SIXTY). RESIDE's mission is to present a new way to stay; offering a curated experience to guests no matter the destination or duration of their stay.  RESIDE aggregated a world-class partner network of over 1,000,000 of the best globally-compliant accommodations options in over 60 countries to satisfy growing consumer demand for high-quality, flexible and vetted housing solutions for business or leisure travel. To learn more visit http://www.staywithreside.com.
About CHPA
CHPA is the only trade association dedicated exclusively to the corporate housing industry. The association advances the highest standards in business and professionalism; provides valuable insight, knowledge and resources to the industry; and increases visibility among related industries. Along with networking, education, certification, and information sharing, CHPA members grow their business and expand their reach through an international network of partners. Find out more about corporate or furnished apartments at http://www.chpaonline.org.