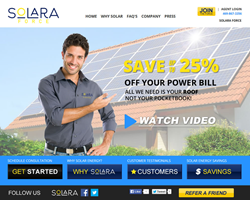 Invest in an energy future now. It's the perfect time to switch to solar.
San Francisco, CA (PRWEB) March 30, 2015
With recent advancements in residential solar power technology and tax incentives provided you the government, major companies are getting into the Solar Energy wave. With state and local governments setting future mandates for renewable energy production, many homeowners are looking to residential solar power as an option.
Solara Power is a new solar distribution company in California which has access to several incentive programs available that allow qualifying homeowners to enjoy the benefits of solar energy without having any up-front investment. One simple way is through a Power Purchase Agreement. The PPA basically allows a solar provider to install a full residential solar power system at the home with no up-front cost the homeowner in exchange for their agreement to purchase the power produced by the unit rather than purchasing it from their current provider...and at lower rates than they are currently paying.
SOLAR BENEFITS
Solar energy is cost-efficient and an eco-friendly power source. The energy harvested from a roof is clean, safe, and simple. Going solar gives families immediate cost savings, and benefits the environment, too. With technology use increasing, and power consumption at an all-time high, energy costs are constantly on the rise.
In addition to cost savings, according to the Wall Street Journal, homes with solar power sell faster and at premium prices: Article
To learn more about residential solar power programs through Solara Power, visit their website at http://www.solaraforce.com