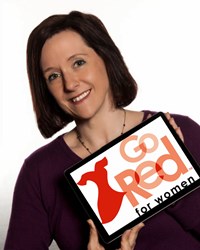 The issue of heart disease in women is very personal for me, and we're delighted to support the Go Red for Women campaign.
Houston, Texas (PRWEB) February 04, 2014
The American Heart Association reports that heart disease is the #1 killer of women in the United States, claiming more women's lives each year than all forms of cancer combined.
"The issue of heart disease in women is very personal for me," says Rachel Parker, Founder and CEO of Resonance Content Marketing. "When I was only 8 years old, I lost my mom to a stroke. This year, we're delighted to help the American Heart Association save more women's lives through the Go Red for Women campaign."
For every person who signs up for Resonance's Social Media Tip of the Week Email in the month of February, Parker and her team will donate $5 to Go Red for Women, the American Heart Association's campaign to save lives by encouraging awareness of the issue of women and heart disease.
"Our goal is 100 signups by February 28, which would mean a $500 donation to this very worthy cause," says Parker, "And I know we can do it. Each person who signs up will not only get a simple, useful social media tip delivered to their inbox every week -- they'll also earn a $5 donation to Go Red, plus a free audio download as a special thank-you gift."
The Resonance "Go Red" campaign runs through Feburary 28. For more information, visit the Resonance Content Marketing "Go Red" page.
About Resonance
Founded in 2010, Houston-based Resonance Content Marketing helps companies attract and retain business through engaging content delivered through social media, e-newsletters, blogs, and other venues. Resonance enhances its clients' marketing strategies by developing comprehensive content marketing plans, writing and publishing content on their behalf, and measuring the results to ensure consistent progress.