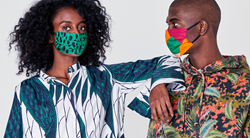 You can't change fashion without changing who is making fashion.
NEW YORK (PRWEB) September 22, 2020
Resonance Companies, Inc announced the 11 Black creator-led brands that were selected from nearly 400 applicants for its beRESONANT Accelerator. The program kicked off eight weeks ago as part of Resonance's contribution to creating equal opportunities for Black creators in fashion. These 11 selected brands designed and are launching clothing across more than 150 unique styles utilizing Resonance's create.ONE brand technology platform and its on-demand, sustainable manufacturing infrastructure. The clothing will be launched both on the brands' websites as well as on the beRESONANT online store that Resonance is also launching.
"You can't change fashion without changing who is making fashion," said Lawrence Lenihan, Chairman and Co-Founder of Resonance. "For the fashion industry to survive, it must change its structure – its basic business model, the impact it makes on our planet, and the opportunities it creates for the people who work in it. These 11 creation-driven brands will be able to compete effectively and profitably with any brand in this industry. Whereas this industry's legacy mass-manufacturing infrastructure makes creativity and experimentation a liability, Resonance's platform transforms it into a competitive advantage."
The beRESONANT council and the Resonance design team selected these 11 brands based on multiple criteria and an interview process for finalists. The brands include BruceGlen, DEMESTIK, Izayla, JungleGurl, Lola Faturoti Loves, MAM Couture, Megan Renee, MOON/5UN, Ooshie, Renowned, and Supervsn. Collectively, the brands span across Men, Women, Unisex, and Kids; materials; colors; and shapes with prices ranging from $50 - $450. Products will be available both on the brands' sites and on the beRESONANT store.
These 11 brands are building their businesses in an entirely new way for an entirely new world. Sustainable design and production are at the core of their business model and on-demand production enables limitless creativity with near-zero cost, creating a clothing brand that can both build value for its owners and make a positive impact on our planet. Resonance Companies' proprietary raw-materials-to-customer-doorstep solution, create.ONE, enables brands to design, sell, and make (in that order) ONE piece of clothing sustainably and on-demand in days as efficiently (in terms of total unit cost) as brands that use legacy supply chains make 1,000+ garments over months.
"Having no inventory and producing sustainable collections also means that I can take more creative risks. As an emerging brand it's difficult to produce with the constant financial worry of if a collection will be successful or not but this platform removes that fear," said Megan Smith, founder of Megan Renee. She added, "I also love that I'm not at the mercy of creating collections season to season. I'm in complete control and I can create more freely without any time and release restrictions."
In addition to launching on their own sites, each brand is releasing selected clothing on the beRESONANT store, a first-of-its-kind multi-brand, on-demand, sustainable online retail destination for inclusive, creation-driven clothing. In the coming weeks, these brands will launch many more sustainably designed and produced products, announce and execute real-time collaborations with brands and influencers, launch online pop-ups, and launch exclusive retailer partnerships.
The beRESONANT Accelerator Program provides capital, services, and technology to talented, creators from underrepresented groups who have something meaningful to say but have not had the tools or platform to say it -- until now. Resonance is helping them build sustainable, valuable businesses that are going to fundamentally alter the trajectory of this industry. Rashad Randolph of Colorado-based MAM Couture said, "Trying to evolve MAM in the Midwest was extremely hard because there aren't many resources. beRESONANT and the create.ONE platform solved my biggest issues in the fashion industry. We now get to make verifiably sustainable products without compromising on creativity."
Creativity and risk go hand-in-hand in the fashion industry. "I no longer have to live collection-to-collection financially. I can always be creating and react right now to what's happening in the market or in our society," said Reuben Reuel, founder of DEMESTIK. "I don't have to hope six months from now I am right when the collection I designed is finally delivered."
"This is only the inaugural class of the beRESONANT Accelerator," continued Lenihan. "Resonance exists to change a broken industry and is taking action to address fashion's failure to include underrepresented creators. While the beRESONANT Accelerator was born out of the Black Lives Matter movement, we believe that the way to make long lasting and far-reaching change is to enable economic opportunity and ownership for Black and other underrepresented creators. That is what we will do with this program now and far into the future."
The beRESONANT Accelerator brands' launch clothing are available at shopberesonant.com.
Check out images of the beRESONANT Accelerator brands' launches and the beRESONANT retail platform launch.
About beRESONANT:
beRESONANT is the first-of-its-kind destination for inclusive, creation-driven clothing, designed by creators committed to changing this industry for the better. We feature brands that create clothes for a new world, and we enable them to make them in a very new way.
About Resonance Companies, Inc.:
Resonance is a technology company that enables clothing brands to build and grow sustainable and valuable businesses. Its proprietary raw-materials-to-customer-doorstep solution, create.ONE, allows brands to design, sell, and make (in that order) ONE piece of clothing sustainably and on-demand as efficiently as legacy businesses make 1,000 garments over months.
More Information on beRESONANT:
All clothing sold on the beRESONANT store is produced on-demand, which means a garment is only made after it is purchased. beRESONANT Accelerator brands and the beRESONANT store hold no inventory of clothing at any time.
Inventory is one of the largest causes of waste in the fashion industry. Up to 30% of clothes manufactured by brands are never sold and end up in a landfill or are incinerated. By making everything on-demand as a customer orders it, there is not any leftover inventory that is wasted and dumped into a landfill, no money-tied up in inventory, and no discounting and devaluing products and brands due to unsold inventory. The fashion industry can't be sustainable unless it is on-demand.
Sustainability is about more than just inventory, however. All beRESONANT products are designed virtually and on-demand, using state-of-the-art tools that enable unlimited variety without wasting time, money, or material on samples. The manufacturing process that powers the production of beRESONANT clothes uses less ink, less water, and less material than traditional processes, which means the brands who sell on the store have a significantly smaller carbon footprint for commercial production than they otherwise could. Resonance pays workers living wages, ensures safe working conditions, and offers opportunities for advancement. When a customer purchases a product created through this process, they know exactly where their clothes are being made, and by whom.
The beRESONANT Accelerator places brands at the intersection of craftsmanship and technology with a distinct advantage: the technology they use to design, sell, and manufacture is specifically designed to amplify their creativity, not hinder, streamline, or replace it. They design products virtually and produce on-demand. With no inventory, the cost of experimentation for beRESONANT products is zero: the brands can test, iterate, and react in real-time based on any number of factors (e.g., customer feedback, current events) with no financial or operational barriers. Plus, the designs they create as part of this program are protected by blockchain technology, which provides them proof of ownership. For the duration of the program, the brands pay no fees, margin, or commission on products created or sold via the beRESONANT platform; when the program ends, 100% of the fees they pay will be reinvested in the Accelerator to benefit future classes. At the end of the initiative, the beRESONANT Accelerator brands may choose whether or not they continue the partnership with Resonance.