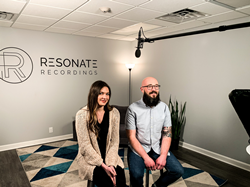 "We're really excited to see the company grow and to be able to make the space our own," says President & CEO Jacob Bozarth.
LOUISVILLE, Ky. (PRWEB) April 10, 2019
Resonate Recordings, a full-service podcast editing service provider, has announced the opening of their new location. The new office is located in the Townepark Circle business park off of Shelbyville Road in Middletown, Kentucky. The company's office expansion comes as a result of the studio's rapid rise to success.
"Having the breathing room of a larger space allows us to collaborate, and it's overall a more conducive environment for productivity and creativity," says President & CEO Jacob Bozarth. "We're really excited to see the company grow and to be able to make the space our own."
Based in Louisville, Kentucky, Resonate Recordings has quickly become a known leader in the podcasting industry, a rapidly expanding communication and entertainment medium. What started as a creative project for co-founder Jacob Bozarth has turned into a leading podcast production service, representing critically acclaimed shows like Up and Vanished and recognized brands like the Associated Press.
Since 2014, Resonate has grown from a team of 1 to a team of 10 in-house team members and 20 part-time contractors. The studio has also seen significant growth in its clientele, rising from 50 to 300 in just a year, with many of their clients reaching the top of the charts on iTunes Apple Podcasts. Practically "busting at the seams" in their previous space, the new office is five times the size of the old (2500 sq ft) and is a more ideal setting for recording audio and collaborating as a team.
"It's important to us to have a space that allows us to be creative, in conditions that allow us to produce our best," says Operations Manager Jon Street.
The fact that Resonate has physical, remote studio location and an in-house team is enough to set them apart from the competition. While other production companies in the industry rely on outsourcing, Resonate operates with a team of local, trained engineers with professional audio production backgrounds.
"We value the face-to-face benefits of an in-house based team," says Bozarth. "We're able to maintain consistent quality, develop a culture, and deliver unmatched customer service."
Resonate Recordings is a one-stop shop for all podcast production needs, from editing, mixing, and mastering your content to designing cover art and setting up hosting. This collective of audio professionals and branding creatives are motivated to both improve the quality of their clients' content and simplify the podcasting process. Let Resonate Recordings help you realize your podcasting goals. Contact them today to claim your free episode.
Media Contact:
Ashley Shadburne, Director of Marketing
http://www.hatfieldmedia.com
ashley (at) hatfieldmedia (dot) com