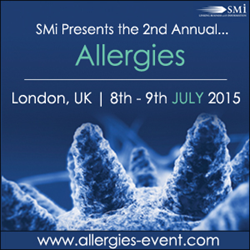 Allergies affect more than a quarter of the population and can be halted or reversed using emerging new therapies-but only if they are accurately diagnosed
London (PRWEB UK) 20 May 2015
Allergies affect more than a quarter of the population and can be halted or reversed using emerging new therapies-but only if they are accurately diagnosed. As a consequence of sampling directly from the mouth and nose, LAMB-Dx is expected to be able to diagnose allergy patients whose blood- or skin-based tests are not accurate or are inconsistent with their clinical symptoms.
(Source: 'Immunovent's Test Aims to Uncover Allergies That Current Allergy Tests Cannot', 27 Jan 2015, Clinical Lab Products)
Against this backdrop, SMi's 2nd annual Allergies conference will have Immunovent's Chief Scientific Officer, Kate Rochlin, presenting on Day Two: LAMB-Dx – A Novel Approach To Food And Respiratory Allergy Diagnosis Through The Detection Of Local IgE. She will be sharing her insight on Local Antibody Mucosal Brush Test Accurately Identifies Specific IgE, Evidence Shows That LAMB-Dx Can Be Used to Detect Allergic Sensitivities in Non-Allergic Rhinitis Patients and Evidence Indicates the Clinical Utility of LAMB-Dx as a Needle Free Clinical Diagnostic.
To download her full presentation, visit the website at http://www.allergies-event.com/prweb
The 2015 agenda features over 19 case study driven presentations and speakers representing both the pharma and biotech industries, academia and 2 interactive workshops, plus over 3 hours of networking sessions. Confirmed attendees include: Biomay AG, Inflamax Research, Hal Allergy, MedImmune, Allergy Therapeutics, plus many more…
Key 2015 speakers include; Ian Strickland, Research Scientist, MedImmune, Rod Hafner, Senior Vice President R&D, Circassia, Tim Higenbottam, R&D Director, Allergy Therapeutics, Diderik Boot, Medical Director, HAL Allergies, Pierre-Henri Benhamou, CEO, DBV Technologies, Juan Gispert, Senior Medical Director, European Head Allergy, Respiratory, Infectious Diseases and Vaccines, Quintiles, Tracy Hussell, Centre Director MCCIR, Manchester University, Tracy Hussell, Principal Investigator, University of Manchester, Adam Chaker, Munich Allergy Research Centre, Klinikum rechts der Isar, Technische Universität München
To download the conference brochure and full speaker line-up visit the website at http://www.allergies-event.com/prweb
For further details contact Andrew Gibbons on tel +44 (0)20 7827 6156 or email agibbons(at)smi-online(dot)co(dot)uk
Sponsored by: Inflamax Research Inc. & DBV Technologies
2nd Annual Allergies conference
8th & 9th July 2015
Marriott Regents Park Hotel, London, UK
http://www.allergies-event.com/prweb