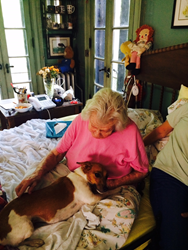 Savannah, GA (PRWEB) September 11, 2014
They say having an animal as a companion adds years to one's life. This is definitely the case for Ossabaw Island's matriarch, Eleanor (Sandy) West and her dog, Toby, who are featured in Hospice Savannah's 2015 Pet Calendar. From the point of view of Toby the Jack Russell, he shares how proud he is that his mom, West, is 102 years old. A Hospice Savannah nurse takes a short boat ride over to the magical barrier island to visit them every week.
Christy Fulcher, coordinator of the not-for-profit Hospice's Pet Peace of Mind© program, believes that it's not just the patient who needs compassionate care, but each member of the family. The Pet Peace of Mind© program helps Hospice Savannah families stay together. Staff and volunteers can now extend their compassion to animals by providing pet food and cat litter, pet walking, routine veterinary care and grooming, transportation, foster care, and assistance with finding a "forever home" if the family cannot keep the pet after the patient's death.
For the second year, Hospice Savannah is offering a pet calendar to highlight the program's scope and raise additional funds. Even with funding from Amie's Place Foundation, a start-up grant from Banfield Charitable Trust, assistance from partners Case Veterinary Hospital and TailsSpin Pet Food and Accessories, and from the many groomers, boarders and veterinarians who have discounted their fees, more funding is needed to keep this program going. The 2015 Pet Calendar sales should help.
Utilizing many images from Hospice Savannah volunteer and retired orthopedic surgeon, Les Wilkes, the calendar features patients and families impacted by the Pet Peace of Mind© program, as well as several of the Hospice's Hug-a-Pet volunteers.
The month of May tells the story of two horses, Jigsaw and Eli. With the help of family and friends, Hospice Savannah coordinated a joyful reunion between their owner and his horses while he was a patient at the Hospice's inpatient unit, Hospice House. The month of August features Scruffy, a registered therapy dog. Scruffy often visits children at Memorial's Children Hospital and also visits patients at Hospice House. His presence and puppy love brings joy to patients who miss their dogs at home, and he's even good therapy for the nurses working at Hospice House as well.
Possibly the most rewarding part of the program for Fulcher is matching an animal with a new family after the patient dies. The month of September features a kitten named Moxie. Moxie and her littermates were born when their owner was very sick. The Pet Peace of Mind© program helped to find Moxie and her littermates new homes. Moxie is now the playful companion of Leslie Ware, who is a nurse manager with Hospice Savannah.
The 2015 Hospice Savannah Pet Calendar is on sale now and can be purchased for a $15 minimum donation to The Pet Peace of Mind© program. They are available during regular business hours from the reception desk at Hospice House, 1329 Eisenhower Drive, and from the reception desk of Hospice Savannah's administrative offices at 1674 Chatham Parkway. They are also available at Case Veterinary Hospital, 111 Eisenhower Drive.
About the company:
Hospice Savannah, Inc., a not-for-profit organization, provides the community with the best services and resources for living with a life-limiting illness, dying, death, grief and loss. Hospice Savannah exists to help lift the burden of worry when people receive or a loved one receives a life-limiting diagnosis. Together, more than 250 volunteers and more than 200 full- and part-time staff members are committed to fulfilling the mission of Hospice Savannah. For more information, call 912-355-2289 or visit their website.