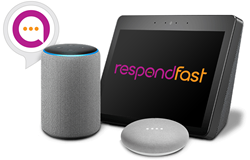 Respond Fast™ Voice Activated Calls To Action™ (VACTA) enable QSR customers to engage meaningfully with their favorite brand through smart speakers.
HAYWARD, Calif. (PRWEB) November 13, 2019
From redeeming an offer and getting valuable nutritional information to voting, reviewing and participating in surveys, Respond Fast™ Voice Activated Calls To Action™ (VACTA) enable QSR customers to engage meaningfully with their favorite brand through smart speakers. For QSR advertisers, it's easy and economical to implement and provides comprehensive attribution and tracking.
Respond Fast uses a VACTA phrase or code printed or announced on offline media, such as an insert, direct mail piece, product label/packaging, receipt, coupon, print ad, collateral piece, TV/radio spot, billboard, and signage. Responders simply say to their smart speaker, "Open Respond Fast," then are prompted to provide their phrase or code. Relevant marketing messaging and calls to action follow. Here is what a Respond Fast Voice Activated Call to Action looks like when printed or announced:
To get your FREE Sandwich, tell your Amazon/Google smart speaker to "Open Respond Fast" and mention phrase "Free Sandwich"
Engage Audiences In An Innovative Way — And Prove It
By combining voice activated calls to action with frictionless smart-speaker responses via Google Home and Amazon Alexa through Respond Fast, QSRs can amp up campaign engagement, response and ensure accurate attribution.
Truly Speak One's Mind
Ways QSRs can use VACTA to increase sales, repeat business and improve service include:

Use the VACTA to introduce new products. Novel, voice activated calls to action can be the compelling connection to promote novel products and services—such as the ever-growing array of meatless fast-food entrees. On the same day recently, Pizza Hut and Dunkin' announced new, meat-free menu choices. A VACTA could be a fun way to introduce new products, survey people about their taste experiences and gather reviews.
Print the VACTA on a direct mailer for coupons sent to your mobile instantly. Even better, provide a unique code to each recipient and tell them that this is a personalized offer. Everyone likes to feel special. Where feasible, tailor the offer to previous buying patterns, demographics and other information customized to that recipient.
Print the VACTA on a package at a point of purchase or delivery (e.g., pizza box, hamburger container, cup). Give buyers the chance to vote, review, take a survey—speak their mind in a variety of ways while buying or consuming the product.
Use the VACTA to share nutritional and other educational information. Increasingly, consumers want to know the nutritional content of their food. By giving them a convenient code to check it out—say during a TV ad—they can explore in the moment. Then, the QSR brand is on their mind in a positive way with something that can drive buying frequency and loyalty.
Announce the VACTA during a drive-time radio spot. With GM's announcement that Amazon Alexa will be standard in all 2018+ models and with other car makers sure to follow, drivers can safely and easily respond to radio ads using a unique phrase. They will then receive a text that can be addressed once at their destination.
Custom VACTAs for promotional campaigns. For example, QSRs can build promotions around lesser-known holidays. "National Pizza with the Works Except Anchovies Day," "National Fast Food Day," and "National Cheese Lover's Day" are actual holidays around which fun, entertaining and memorable campaigns can be built.
Easy Setup And Open
Setting up and using Respond Fast is easy and user-friendly. Either visit respondfast.com or just tell your smart speaker to "OPEN RESPOND FAST" and use keyword "TRIAL." Then follow the prompts. Once setup is complete, users can access the convenient dashboard to create the campaign tied to the appropriate offline media. Then, they can open the campaign, analyze results, and refine/enhance subsequent efforts.
About Respond Fast
Respond Fast is part of Respond Now LLC, founded in 2018 to create the first Voice Activated Call-To-Action (VACTA) technology that uses smart speakers to respond to offline media campaigns deploying direct mail, TV/radio spots, print ads, collateral, TV/radio spots, billboards, signage and product label/packaging. Consumers simply ask their smart speakers to redeem an offer, download an app, respond to a survey, or speak with a salesperson. The company was founded by direct response marketing veteran Mike Gunderson.