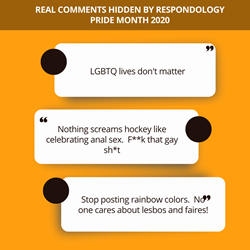 BOULDER, Colo. (PRWEB) May 26, 2021
The numbers are stunning and stark: 247%.
Yes, that is the actual percentage increase of hateful and offensive comments on Respondology's sports clientele's social channels from May 2020 to June 2020. The vast majority can be attributed to one main factor – Pride Month. That's how big homophobic hate speech on social media channels in sports is.
Rather than simply watch that trend inevitably repeat itself in June 2021, Respondology is taking action, by offering every NFL and NBA team in the leagues the opportunity to protect its fans from racist and homophobic hate speech on social media.
"The free service will provide a layer of protection for the biggest sports brands in the country, during a month when we see an incredible up-tick in hate speech on social channels, across the board," said Erik Swain, President, Respondology.
Any team within the NFL and NBA will be able to take advantage of Respondology's technology, which is fully integrated with social media platforms to actively root out racist and homophobic hate speech, spam and general vulgarities, in seconds 24/7/365.
Respondology already champions many LGBTQ organizations, including The Trevor Project and PFLAG, helping eradicate online hate speech, both during Pride Month and throughout the year.
The Pride Month promotion will be supported with the hashtag #pridewithouthate.
About Respondology
Boulder, Colorado-based Respondology is one of the only social media moderating companies in the world fully integrated with social media platforms (including Instagram, Facebook and YouTube) to actively root out hate speech and spam in seconds 24/7/365. Founded by 20+ year digital advertising veterans with deep experience helping brands place ads in content-safe locations, clients include national consumer and sports brands. Respondology is part of the Boulder Heavy Industries (BHI) portfolio.