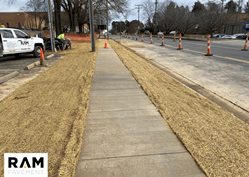 "The last 5% is one of our uniques and what truly sets us apart from our competition. We're very passionate about it because it gives our clients the peace of mind that their projects are being done all the way through." - Rob Miller, President of RAM Pavement
CHARLOTTE, N.C. (PRWEB) February 16, 2021
When it comes to managing a pavement project, not everyone shares the same vision for responsible asset management. It's important to work with asphalt and lot paving experts and project management professionals who truly understand that most owners and property managers need safety for their patrons and predictable costs for their bottom line. One local paving company in Charlotte that has been leading the way with unparalleled project management from start to end is RAM Pavement.
RAM Pavement has designed a proven process that can take any paved asset from unpredictable to future proof. There are various steps that make up this proven process but what really makes it stand out is their commitment to the last 5%. Most other crews leave sloppy workspaces and loose ends in communication, but not RAM Pavement. They believe that a job is not done until all of the loose ends are tied up.
"The last 5% is one of our uniques and what truly sets us apart from our competition. We're very passionate about it because it gives our clients the peace of mind that their projects are being done all the way through." - Rob Miller, President of RAM Pavement
This unique principle is something that every team member is passionate about. All employees are trained to focus on the last 5%. Have the cones been picked up? Are the curbs and drains cleared? Has the business owner or key stakeholder been communicated with? Has the work been validated? The last 5% focuses on quality assurance on a wider scale. Even if a client is in another state and would like work to be done in North Carolina, they can have the peace of mind that their project will be done all the way through.
The first 95% of the job is easy, but it's the critical last 5% where most companies miss the mark. For more information or a complimentary pavement assessment, call (704) 622-1300. Every company starts, but RAM pavement finishes strong.