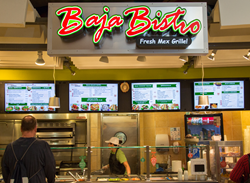 The design team was instrumental in the transition from static to digital. They meticulously followed the rules of digital menu board design, and created templates that not only stood out, but represented my brand very well.
Sterling, VA (PRWEB) December 10, 2015
Mvix, an industry leader in affordable digital signage solutions, has partnered with Baja Bistro, a DC-area quick service restaurant specializing in fresh Mexican and southwestern food, for a powerful digital makeover. The Mvix Digital Menu Boards bring visual appeal to Baja Bistro, and complement efforts to create and heighten a multi-sensory experience for the Millennial clientele.
Opened in 2010, Baja Bistro is located in the Tysons Corner Center, the largest shopping mall in the Baltimore-Washington metropolitan area, and the 13th largest in the country. The restaurant boasts of dishes crafted with fresh ingredients, which differs from the generally mass-produced food menu options that are typical of mall food courts. Baja Bistro has set itself apart as a sustainable food choice for consumers in favor of fresh, locally sourced food.
In 2014, the restaurant came under new management, and with that, it got a new look and improved menu. The change in management was a strategic move to match the tastes of the Baltimore-Washington metropolitan area, which is the most educated, highest-income, and fourth largest combined statistical area in the United States. "Competition is high, and consumer tastes (both culinary and lifestyle) are changing," said Alex Namdar, Baja Bistro's new owner. "If we do not keep up, we become obsolete."
Restaurants are becoming increasingly vulnerable. According to a frequently cited study by Ohio State University, 60% of restaurants do not make it past the first year, and 80% go under in five years. Survival chances are dependent on factors such as location, having a substantial population of apartment dwellers and transient residents (notably, university students), and the presence of people aged eighteen to twenty-four, those with higher educational levels, and non-household families.
Lucky for Alex and his team, all these factors are present in the Baltimore-Washington metro. A metropolitan feel has a millennial appeal. Millennials like stimulating and creative experiences and environments. And with purchasing power that rivals the baby boomer generation, they have already begun to shape marketplace trends, namely the digitization of the marketplace. So it follows that to thrive, Baja Bistro needed to create a multi-sensory experience in order to attract millennials, appeal to them, and keep them coming back.
Digital signage filled this gap. This sophisticated digital engagement platform has tangible gains in both the customer facing and staff facing areas. In addition to adding visual appeal and modernizing the location, digital menu boards also instill a perception of technology leadership in the minds of today's technology savvy consumer. "We were in fact the first restaurant in the food court to go digital," added Alex. "From that alone, we saw an increase in foot traffic."
An increase in positive brand perception is one of the ROIs of digital menu boards. An increase in sales is another ROI of digital menu boards. This is a result of the "quiet", non-intrusive nature of the menu boards, combined with their visual impact and ability to include motion which attracts more eyeballs. The human brain is programmed for motion. Visual has become the new language of digital natives and immigrants. This demographic is processing images faster than words. Digital menu boards with motion tap into something that is innately human to demand attention and hold it. This technology has also been credited with a faster ordering process, and an increase in customer turnover by guiding purchases through content.
Digital menu boards are also becoming an invaluable tool at "the back of the house". Out of the diner's view, these menu boards can be repurposed to display workplace safety and food safety information. They can also be used for staff training, to keep the staff abreast of new dishes and promotions, and how to engage with employees. This is especially critical in the hyper-competitive food service industry where a restaurant can thrive or suffer based on the quality of customer service and customer engagement. They are also effective for communicating with staff who aren't issued desktop PCs or devices, or given email addresses.
Alex reviewed a few digital signage providers before selecting Mvix. "Their solution is simply unsurpassed in value," said Alex. "For a fraction of the cost of comparable full-featured solutions, I have an affordable, flexible, and customizable graphic engine to drive effective and efficient communication." Mvix's solution supports HTML5 media playback, playlist and template management, comprehensive scheduling options and a multi-role user management. Their simple yet intuitive user interface and the ease of updating content are two other features that appealed to Alex's team.
Alex also enlisted Mvix's design team to design his menu boards. The team is comprised of experienced custom digital signage experts who possess in-depth insight about the food service market. "Mvix's design team was instrumental in the transition from static to digital," said Alex. "They meticulously followed the rules of digital menu board design and created templates that not only stood out, but represented my brand very well."
"Baja Bistro's quest for leadership and innovation is refreshing," said Mike Kilian, the Mvix Director of Business Development. "In today's ultra-competitive food service environment, they have managed to drive sales, engage their customers, and enhance their in-venue experience all without breaking the bank! Baja Bistro has become a worthy culinary destination, and we could not be more proud to be affiliated with them."