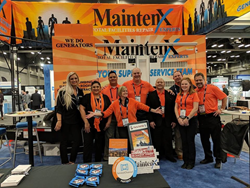 We love seeing our existing customers and hearing how our services help improve their business and improve their bottom line.
TAMPA, Fla. (PRWEB) February 19, 2019
MaintenX International, a Tampa-based provider of facility maintenance services, has returned from the Restaurant Facilities Management Association (RFMA) annual conference in Austin, Texas. After three days of sharing best-practice preventative and reactive maintenance with restaurant facility managers from across the nation, the MaintenX team is ready to enter 2019 on a high note.
"We love seeing our existing customers and hearing how our services help improve their business and improve their bottom line," said Bill Schaphorst, MaintenX's VP of Business Development.
Schaphorst notes that restaurant facility managers have unique challenges. Some of these unique elements include keeping interiors at a comfortable temperature and humidity for diners and staff, ensuring proper plumbing in bathroom and kitchen facilities, and maintaining proper refrigerator temperatures to ensure food safety. However, these are the same areas that more and more restaurant facility managers turn to MaintenX's superior self-performing services and skilled technicians when things go wrong.
"The best feeling is when they bring their colleagues to our booth and refer our services." Schaphorst said. "These referrals help our continued growth and success. This year, we expect to expand our work force to more than 300 highly skilled-technicians."
MaintenX is the nation's largest self-performing maintenance provider, helping restaurants with locations from coast to coast rest easy that they'll receive world-class service and work order management anywhere they are. To learn more about MaintenX and the services they provide, visit http://www.maintenx.com.
ABOUT MAINTENX INTERNATIONAL:
MaintenX International is a fully licensed, facilities repair company. As one of the largest national self-performing facility maintenance and repair companies in the U.S., MaintenX has created a wide network of knowledgeable and professional technicians throughout the country. With their team of well-trained technicians, MaintenX self-performs and manages facility maintenance for their clients. In the event there is not a MaintenX technician in an area, the company has established a network of preferred vendor partners throughout the country for continued superior service for their clients. For more than 40 years, MaintenX has been expertly serving multi-location retail stores, restaurant chains and Fortune 500 companies nationwide.