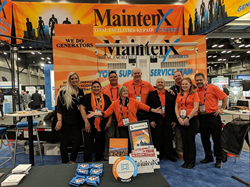 MaintenX knows that restaurant facility managers have a number of unique considerations, and we look forward to hearing about the trends, challenges and changes that are top of mind for 2020
TAMPA, Fla. (PRWEB) March 03, 2020
MaintenX International, a Tampa-based provider of facility maintenance services, is excited to participate and exhibit at the 2020 Restaurant Facilities Management Association (RFMA) Annual Conference in Denver. From March 8 – 10, MaintenX team members will be sharing preventative and reactive maintenance best practices with restaurant facility managers from across the nation.
"MaintenX knows that restaurant facility managers have a number of unique considerations, and we look forward to hearing about the trends, challenges and changes that are top of mind for 2020," said Bill Schaphorst, MaintenX's VP of Business Development. "RFMA is always a great chance to meet, connect and network with best and brightest leaders in the restaurant facility industry."
Conference attendees will enjoy MaintenX's new, backlit 10' by 15' hanging sign, and are invited to stop by for snacks, beverages, and industry insights. Booth visitors can also get an up-close look at the company's fleet capabilities with an onsite van, while sporting MaintenX-sponsored conference bags and lanyards.
"I cannot wait to see our existing customers and meet soon-to-be customers at our cocktail reception on the second day of the conference," Schaphorst said. "We're excited to show them a phenomenal time and learn about how we can continue to meet their needs while providing the highest levels of customer satisfaction."
MaintenX has much to celebrate at this year's conference, as Schaphorst has been selected as 2020 Vendor of the Year, a testament to his commitment to customers and passion for his work. The award honors Schaphorst's dedication as a volunteer leader for RFMA, his hardworking and humble spirit, and his enthusiasm for making each day better for every customer he encounters. He will be presented with his award during the Tuesday General Session Luncheon & RFMy Awards session.
MaintenX is one of the largest self-performing maintenance providers in the nation, with more than 40 years' experience in helping restaurants. Whether they run a restaurant has a single location or boasts a coast-to-coast franchise, facility managers can rest easy that they'll always receive MaintenX's world-class service, no matter where they are. To learn more about MaintenX and the services they provide, visit http://www.maintenx.com.
ABOUT MAINTENX INTERNATIONAL:
MaintenX International is a fully licensed, facilities repair company. As one of the largest national self-performing facility maintenance and repair companies in the U.S., MaintenX has created a wide network of knowledgeable and professional technicians throughout the country. With their team of well-trained technicians, MaintenX self-performs and manages facility maintenance for their clients. In the event there is not a MaintenX technician in an area, the company has established a network of preferred vendor partners throughout the country for continued superior service for their clients. For more than 40 years, MaintenX has been expertly serving multi-location retail stores, restaurant chains and Fortune 500 companies nationwide.