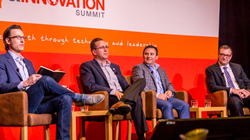 We have several of the industry's most successful executives on this year's agenda to share how they meet customer needs while still turning profits.
LOUISVILLE, Ky. (PRWEB) March 06, 2019
Customers are high-maintenance these days; they expect affordable, yet high-quality food and super quick service in an upscale, trendy environment. Easier said than done, which is why several panels at this year's Restaurant Franchising and Innovation Summit, March 11-13 in Louisville, will focus on those topics.
"Customers want it all, and brands hoping to compete must give it to them," said Cherryh Cansler, editor of Fast Casual and VP of Editorial of Networld Media Group, the company producing the summit. "Luckily, we have several of the industry's most successful executives on this year's agenda to share how they meet customer needs while still turning profits."
In "Remodeling Done Right: Create a Stellar New Look with Staying Power," c-level executives from Chick-fil-A, Captain D's, Zoup Eatery, Mongolian Grill and Rave Restaurant Group, will talk about when and how investing in renovations or rebranding initiatives can revitalize the brand.
Captain D's, for example, underwent a massive brand overhaul in 2011, rolling out updated, state-of-the-art kitchen equipment, as well as placing an emphasis on product innovation by reimaging its design — both structurally and aesthetically, according to a company spokesperson. The efforts resulted in improved guest satisfaction and propelled a surge in franchise development; by 2017, Captain D's had achieved six consecutive years of same-store sales increases and four successive years of record-high AUV.
Larry Jones, VP of Construction of Captain D's, will discuss that and also how the brand debuted two restaurant prototypes last year. The most recent prototype, which debuted in New Iberia, Louisiana in December 2018, features a footprint nearly 1,000 square-feet smaller than the brand's traditional locations.
A comfortable, upscale atmosphere is great, but if you don't offer speedy service, customers will still go elsewhere.
"This requires multiple ways for customers to order, pickup, or take delivery of their food," Cansler said, which is the focus of "How to Please the 'We Want It Now' Crowd." Execs from The Pie Hole, Saladworks, Dippin' Dots and Doc Popcorn will discuss everything from how they get legacy franchisees to invest in upgrades to how company culture affects their success rate.
Another session, "The Restaurant of the Future: How Next-Gen Technologies Enrich the Guest Experience and Lower the Cost of Innovation," will reveal how to enhance the customer experiences across channels and multiple locations without going over budget.
CoreLife Eatery CEO Scott Davis and Salsarita's CEO Phil Friedman will join Michael Johnson, Papa John's senior director of Technical, Voice & Data Services, and Scott Stalnaker, director of IS Operations & Projects of Donatos, to discuss how technology helps them deliver robust guest experiences, enhance security compliance, enrich loyalty programs and simplify rollouts.
They'll also discuss how to implement them as fully managed solutions to free up capital expenditure budgets and allow teams to focus on proactive strategic initiatives.
"Behind the Digital Scenes: Learn How to Enhance the Customer Experience Via Mobile Technologies" will touch on how restaurant brands of all sizes are using digital engagement to increase customer loyalty and drive digital and drive customers to purchase. Execs from Fazoli's, La Madeleine and My Favorite Muffin will share success stories from deployments that focused on the power of AI and personalization to drive emotional engagement at scale.
One key way to empower customers is with self-service deployments, including kiosks and mobile ordering, a strategy that execs from Square Roots Kitchen, NRG Restaurant Group and Curry Up Now will explore during "DIY: Helping Your Customers Conquer Self-Service."
"Customers want to take their ordering experience into their own hands, but with so many different technologies in use, deciding if or when to embrace the self-ordering process can be frustrating for restaurant brands," Cansler said about the session that will discuss the pros and cons of self-ordering options.
Another session hoping to remove the mystery behind tech upgrades is "From AI to VR: When are Tech Upgrades Worth the Upfront Cost?"
From back-of-house robots to customer-facing apps that enable virtual experiences, restaurateurs seem to have endless options when it comes to upgrading their technological offerings, but when is it worth the cost?
Panelists, which include executives from CKE Restaurants Holdings, StarCorp, which owns more than 140 Carl Jr's & Hardee's locations and Taziki's Mediterranean Cafe, and Middleby Corp., will share the benefits and difficulties of their own deployments and talk about emerging technologies, Cansler said.
Register here for the Summit, which includes a variety of other topics, including franchising and growth, menu trends, marketing and catering. Registration is open until Friday, March 8 .
The keynote speaker is Ryan Smolkin, founder & CEO of Smoke's Poutinerie.
About Networld Media Group
Founded in 2000, Networld Media Group is a leading business-to-business (B2B) global media communications company specializing in digital media, associations and events in the mobile, self-service, digital signage, retail, food service and financial services industries. Online properties include ATMmarketplace.com, BlockchainTechNews.com, DigitalSignageToday.com, FastCasual.com, FoodTruckOperator.com, KioskMarketplace.com, MobilePaymentsToday.com, PizzaMarketplace.com, QSRweb.com, RetailCustomerExperience.com and BiblicalLeadership.com. Networld event properties include the Fast Casual Executive Summit, CONNECT: The Mobile CX Summit, Interactive Customer Experience Summit, Bank Customer Experience Summit and the Restaurant Franchising & Innovation Summit. Networld also operates the ICX Association. BOOM! Creative, provides clients with digital creative, custom media and brand collateral. Its newest offering, World of Money, is a daily e-newsletter that provides a fun and informative look at the trends, technologies, and ideas shaping the future of money and payments.
###