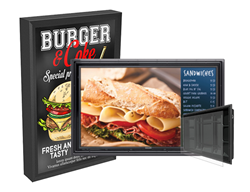 ALTAMONTE SPRINGS, Fla. (PRWEB) September 01, 2020
Protective Enclosures Company (PEC) is offering restaurants up to 25% off indoor and outdoor digital signage enclosures which can be paired with any standard TV or display for an affordable protected TV, digital signage, digital menu display, or drive thru menu board solution. Bars and restaurants can take advantage of this by mentioning the up to 25% off restaurant deal when they call to order from PEC. PEC is the leading American manufacturer of robust outdoor TV cabinets and indoor and outdoor digital signage cases.
Affordable digital drive thru menu boards are more important now than ever in the food service industry. From capitalizing on eye-catching graphics, reducing signage costs in the long run, and being able to stream up-to-date information, to reducing the use of paper products and minimizing physical interaction, digital outdoor menus and digital drive thru menu boards are vital. Be it during the pandemic or the years to follow, it will remain important to offer outdoor ordering and low-contact solutions for consumers.
As countless restaurants shift to utilizing outdoor seating and outdoor ordering in response to the pandemic, unfortunately many digital outdoor walk up menu displays and digital drive thru menu boards are either too expensive, limiting in regards to functionality, or complex when it comes to installation or maintenance with challenges such as regularly handling large panels.
Fortunately, bars and restaurants have the alternative to simply put any low-cost or high tech TV or digital display of their choice in an outdoor digital display enclosure like The Display Shield (horizonal or vertical formats are available), The TV Shield PRO, or The TV Shield PRO Portrait by PEC to enjoy an easy and cost-effective digital signage or outdoor digital drive thru menu board solution. In addition, that means restaurants benefit from all the video, image, text, and sound features they need to deliver engaging and successful indoor and outdoor menus, digital signage, or entertainment.
From restaurants, banks, hotels, and theme parks to sports arenas and manufacturing facilities, PEC enclosures can be found at locations such as Wendy's, TGI Fridays, Subway, Buffalo Wild Wings, Bahama Breeze, Whole Foods, Six Flags, Marriott, UCF, Georgia Tech's Stadium, Nestle Purina, Tyson, FedEX, Southwest Airlines, and many more.
About Protective Enclosures Company:
As of 2020, PEC's enclosures protect TVs and video displays in over 25,000 locations in more than 42 countries worldwide.
*All PEC, The TV Shield®, The Display Shield®, and The TV Shield PRO® logos and product names are owned by PEC. Other company and product names may be trademarks of their respective owners, and PEC does not claim official endorsement of any named businesses.