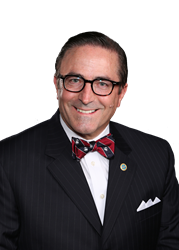 You just can't operate outdoor dining when it's 35 degrees and sleeting. By negotiating percentage only rent for six to 12 months, restaurants get a lifeline, and landlords can receive some monies to maintain the shopping center, pay real estate taxes and make mortgage payments.
MANDEVILLE, La. (PRWEB) September 08, 2020
For most restaurants, Labor Day traditionally marks the unofficial end of summer and the launch of fall menus and holiday events. During the COVID-19 era, however, the coming of cooler weather in much of the U.S. and Canada portends the eventual loss of the outdoor dining that had helped restaurants survive the summer and pay some rent to the landlords. As they have throughout the pandemic, landlord and tenant will have to compromise to keep restaurants in business, observes Kenneth S. Lamy, founder, president and CEO of Louisiana-based The Lamy Group, an international financial management consulting firm specializing in retail and commercial real estate for more than 30 years.
The answer, he said, is percentage-only rent, likely through at least the first half of 2021 as, once again, restaurants will have to cut capacity to observe ongoing restrictions mandated either by government or climate.
"We've come a long way since March, when all indoor dining was banned throughout most of the U.S.," Lamy said. "The industry proved incredibly adaptable, shifting its business model to takeout, prepared food delivery with the help of Uber Eats, DoorDash, Caviar and Grubhub and, in some cases, adding some grocery items for customer purchase and pickup."
From the earliest days of the pandemic, some landlords obtained and analyzed sales figures for the two years prior to the onset of COVID-19 to help them assess appropriate rent assistance to struggling eateries. Many even helped tenants apply for the Small Business Administration's Paycheck Protection Program. As the U.S. began to reopen for business, retail real estate owners made parking lots and sidewalks available for outdoor dining to allow restaurants to serve customers when going inside was banned, then severely restricted.
As of early September, indoor dining is permitted with restrictions throughout nearly all of the U.S., with some exceptions where COVID-19 cases have risen. However, the restaurant industry has been suffering financially like few others, and landlords fear that individual restaurant survival will depend on the rent structure that restaurants can afford to pay during the next six months, according to Lamy.
Indoor dining entails patrons sitting for long periods of time while talking and eating without face coverings. That setting is much more conducive to transmitting the novel coronavirus than other forms of retail, where customers move about a store wearing masks and trying to maintain physical distancing. Even movie theaters are safer than restaurants because patrons can wear masks and high ceilings permit greater ventilation of the facility. By default, restaurants get greater scrutiny from regulators who demand lower occupancy levels and higher costs to ensure proper ventilation and mandates for disinfecting, Lamy said.
But in a notoriously low-margin business, operating at 25% or 50% capacity to accommodate government-mandated social distancing — and customer comfort — could prove fatal to many restaurateurs, especially undercapitalized independent operators with limited resources to cover payroll, food costs and rent in accordance with lease obligations, Lamy said. The longstanding model of a guaranteed fixed minimum base rent plus a percentage of sales over a natural breakpoint is not viable when a restaurant is limited to as little as 25% of capacity during the fall and winter.
"When a restaurant closes permanently, the landlord suffers as well as the tenant and its employees. Landlords have operating costs and mortgages, and need the foot traffic that restaurants bring," Lamy said. "Fall and winter will make this even more apparent, as you just can't operate outdoor dining when it's 35 degrees and sleeting. By negotiating percentage-only rent for six to 12 months, restaurants get a lifeline, and landlords can receive some monies to maintain the shopping center, pay real estate taxes and make mortgage payments."
Percentage rent structures could likely extend until a vaccine is widely distributed or therapeutics render COVID-19 no longer life-threatening, and customers once again feel safe dining in crowded restaurants and bars. Or percentage rent could become a permanent option going forward, at least early on.
According to Lamy, landlords are either deferring or abating rents for their restaurant tenants. Typical rent abatements he saw in July and August took one of two approaches, with both utilizing a percentage rent structure. One entails the restaurant paying between 7% and 10% of sales, as well as its pro rata share of the landlord's expenses (such as common area maintenance, property insurance and real estate taxes). The second approach is what Lamy calls a gross lease, in which the restaurant pays from 12% to 15% of its monthly sales as total rent. In this approach, the landlord absorbs the tenant's pro rata share of landlord's reimbursable expenses.
However, setting the proper percentage rent abatement requires a thorough audit of sales prior to the pandemic, defining any exclusions and establishing a reporting requirement if one didn't already exist in the lease; surprisingly, this still happens in the restaurant sector, Lamy noted. With that in place, a straightforward percentage-only restructured lease can be created for a specified period or until pre-COVID-19 activity resumes.
"In short, a restaurant that is doing $100,000 a month in sales would pay $8,000 in rent if using an 8% rent factor. If that volume is reduced to $50,000 per month when the weather gets colder, the restaurant pays $4,000 in rent," he said. "A percentage deal is the only fair method until the pandemic is over. It's a tradeoff, but the upside is that restaurants can survive on half of its sales. As sales increase, so do the restaurant's rent obligations."
When normal business resumes, guaranteed fixed minimum rent can resume and, if the rent was deferred rather than abated, any monies deferred in the early days of the pandemic can be spread out over a negotiated period. An operating restaurant is a much better option versus a dark space requiring a significant capital investment to modify the existing space or build out a new restaurant.
Obtaining accurate data remains critical. The language of an abated percentage rent lease amendment must be very specific on determining how to report sales, especially what exclusions are not included, said Lamy, also founder and CEO of DataPoint International LLC (DPI), the creator of the EXETER™ Retail DataHub, a software-as-a-service (SaaS) platform that provides a comprehensive, "one standard system" for collecting, analyzing and certifying sales data from retailers and restaurant tenants with desired transparency.
Percentage rent factors can vary by restaurant types and food categories. Because of their higher margins, fast-food and other quick-service restaurants can absorb higher rent-to-sales ratios — in the high teens or even up to 20% of sales — while fine dining, which has higher operating costs, are negotiating rents in the 8% to 12% range. Some cuisines have a higher profit margin; for example, Chinese restaurants can afford higher rents than French food operators. If the restaurant is a franchisee or licensee of a celebrity chef, another wrinkle is added, as a fee to the franchise or royalty to the chef takes 5% to 8% right off the top of a restaurant's grosses, notes Lamy, who is headquartered in metropolitan New Orleans, where an estimated 90,000 people work in the restaurant and hospitality field.
"This makes what should be a simple situation a bit more complicated," Lamy observed.
Restaurants are important to retail landlords, who have added dining options to properties over the past decade to protect their rental income from online competition to general merchandise stores. Thus, landlords' interests are aligned with their restaurant tenants in ensuring that restaurants survive as a going concern. Despite the pandemic, more than one million restaurants in the U.S. are projected to achieve $899 billion in sales in 2020, according to the National Restaurant Association. The U.S. restaurant industry employs 15.6 million people.
The Lamy Group's proven retail methodology provides its landlord clients with a financial process to discover, analyze and confirm a restaurant's status in order to make an informed, fair decision about the restaurant's ability to survive after it reopens. For restaurants that are franchisees of a larger chain, the methodology and financial process is applied to the parent company as well as the individual location in question.
"The percentage rent structure may become a more common model because it's so much more efficient as restaurant locations open to help them gain traction and momentum," Lamy said. "What remains clear is that landlords and their tenants must be cooperative and collaborative, and base their decisions on accurately reported and expertly analyzed data. That is how we will get through the ongoing challenges of COVID-19."
About The Lamy Group
The Lamy Group is a Mandeville, Louisiana-based international financial management consulting firm of certified public accountants, MBAs and other professionals. Founder, President and CEO Kenneth S. Lamy, CRRP, CRX is an instructor and volunteer for the International Council of Shopping Centers (ICSC) for more than 30 years. The Lamy Group specializes in customized financial retail sales, compliance and specialty examinations (tenant sales audits/revenue share/data verification) programs, ancillary revenue audits, retail property and sales analytics, restaurant consulting, including lease consulting and related compliance programs for clients. Clients include owners, developers, managers, publicly-traded real estate investment trusts (REITS), realty advisors and institutional investors throughout North America, the Caribbean and Mexico.