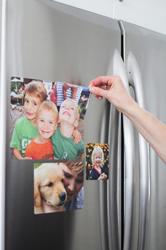 "When I was in isolation recovering from my bone marrow transplant, seeing pictures of family, friends and pets made a big difference. It's comforting to know reStickitys will make everyone's time apart more bearable." -Emma Falk, Co-Founder, reStickity
ROCHESTER, N.Y. (PRWEB) April 03, 2020
Not being able to spend time with family and friends in person might be a new experience for many. It certainly was for reStickity cofounder Emma Falk when in 2011, at age 15, she found herself battling Acute Myeloid Leukemia and unable to have visitors for over 6 months. She was lonely. Phone calls and FaceTime helped, but she longed for a personal connection and a way to brighten her days. Photos that surrounded her of great times with family and friends provided continuous reminders she was loved and missed. Unfortunately, tape, tacks, magnets, and frames weren't always an option. Photos ended up on the floor and often caused damage to the photo or surface when she moved them.
Emma beat cancer and finished her schooling on time. After spending time working in advertising, in 2018, she teamed up with her mom, Jodi Falk, to launch reStickity, a reStickable photo business based in Rochester, NY that makes it easy and worry-free to display pictures on any surface. reStickity prints its customers' uploaded images on durable, surface-friendly, peel-and-stick fabric adhesive material. These reStickable photos ("aka reStickitys") can be peeled off and moved over and over again without damaging the photo or surface.
With everyone isolated and separated from loved ones, the reStickity team is doing their part to help people stay and feel connected during this challenging time. In addition to extending other promotional offers, the next phase in their recently launched 'Operation Stay Connected' initiative, is to waive shipping and handling fees on ALL orders placed through June 1st.
The ordering process is incredibly easy! Upload your pictures onto the secure site (http://www.reStickity.com), choose your sizing and you're done. When your reStickitys arrive, you'll be able to instantly peel and stick your photos anywhere. They quite literally stick to anything too; refrigerators, walls, mirrors, cabinets, workspaces, laptops, lockers and more.

No tape, tacks, magnets, frames or nails needed. Landlord-approved. Particularly perfect for senior living facilities, rentals, office spaces, work from home areas and refrigerators.
Display reStickitys individually or together to create an evolving photo collage.
Magnet-free and/or wood refrigerator door? No problem with reStickitys.
Not just for photos, easily make your daily affirmations, goals and favorite quotes into reStickitys.
Prefer to change up your wall decor frequently? reStickitys are easy to rearrange, move, adjust and store.
Available in four sizes: 4"x4", 5"x7", 8"x10" & 12"x18" in both portrait and landscape orientations.
There is no time like the present to get those pictures off your phone and into your living space. Show a loved one you're thinking about them during these difficult times by sending them reStickable photos of shared memories together. reStickitys are a great personal gift and don't require a trip to the store. Starting at $4.99 plus tax (if applicable). Visit http://www.reStickity.com for more information.