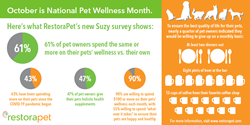 I was moved by the results as pet owners placed equal value on their pet's health as their own, further demonstrating the need for products like ours to ensure an improved quality of life for pets around the world."
GAITHERSBURG, Md. (PRWEB) October 02, 2020
Leading up to National Pet Wellness Month in October, RestoraPet, the pet health supplement that restores wellness in pets experiencing age-related decline and boosts the health and well-being of younger pets, announced findings from a Suzy survey of 500+ American men and women pet owners, ages 16-73. Results fielded by the leading consumer insights platform indicated that more than 60 percent of pet owners would pay as much as they would on their own wellness for their pets.
RestoraPet's Suzy survey also found that nearly 90 percent are willing to spend $100 or more on their pets every month — with 55 percent willing to spend "whatever it takes" to ensure their pets are happy and healthy. Of those surveyed, 43 percent indicated they are spending more on their pets since the COVID-19 pandemic commenced. To ensure the best quality of life for their pets, nearly a quarter of pet owners indicated they would be willing to give up at least two dinners out, eight pints of beer at the bar, or 13 cups of coffee from their favorite coffee shop on a monthly basis.
"It's no question that our pets are family and their well-being should be top of mind, considering they age faster than we do," said RestoraPet CEO, Brian Larsen. "Since October is National Pet Wellness Month, our team connected with hundreds of pet owners across the country to find out what dollar value we would place on our pets' wellness. Needless to say, I was moved by the results as pet owners placed equal value on their pet's health as their own, further demonstrating the need for products like ours to ensure an improved quality of life for pets around the world."
Other findings from RestoraPet's "Let's Talk About Pets!" Suzy Survey showed:

Pet product recommendations come from personal connections — not social media — as 70 percent said their most important source is their vet, with 17 percent pointing to friends and family members. Social media influencers and Facebook ads came in a distant third and fourth with less than five percent each.
47 percent of pet owners give their pets holistic health supplements
October is National Pet Wellness Month, named by the American Veterinary Medical Association as a reminder for pet parents to check-up on their pets' wellness and visit their veterinarians if necessary. RestoraPet has a growing product line of veterinary-approved, organic supplements that can lead to dramatic improvements in a pet's activity level, playfulness, appetite, coat condition, flexibility, and pain reduction. To learn more about RestoraPet's products visit, http://www.restorapet.com/product/restorapet/.
ABOUT RESTORAPET:
RestoraPet is the most effective line of pet supplements ever created. Made with the perfect blend of love and science, RestoraPet restores wellness in older pets experiencing age-related decline and boosts the health and well-being of younger pets. First introduced to the market in 2014, RestoraPet products are now used by tens of thousands of pets (especially dogs, cats, and horses) in more than 100 countries worldwide. RestoraPet contains a remarkable, carbon-based "super antioxidant" that scientists created called Vitalitrol®, and begins working from the very first administered dose to rehabilitate and protect almost every type of cell in a pet's body. Learn more at http://www.restorapet.com.
ABOUT SUZY:
Founded in 2017, Suzy is an enterprise software platform that puts the voice of the consumer at your fingertips. Whether you're a novice or an expert researcher, Suzy delivers advanced tools combined with the highest-quality audience to deliver insights in minutes. Many of the biggest brands in the world use Suzy to deliver breakthrough products and experiences backed by data-driven decisions. To date, Suzy has raised over $35MM in venture capital funding from investors that include Bertelsmann Digital Media Investments, Foundry Group, Tribeca Venture Partners, Triangle Peak Partners, and Kevin Durant's 35 Ventures. Learn more at http://www.suzy.com.
Media Contact:
Allison Ullo
Trust Relations
restorapet@trustrelations.agency
610-905-1817