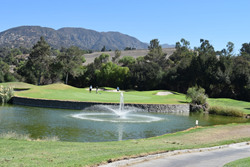 AZUSA, Calif. (PRWEB) October 26, 2018
ServiceMaster by T.A. Russell is a disaster restoration services provider based out of Azusa, CA that has always been active in their local community. On September 14, 2018, they hosted their 5th Annual Golf Tournament to help raise money to fund the City of Hope in their pediatric cancer research. City of Hope is a healthcare institution located in Duarte, CA that engages in patient care, education and research. This is the second year in a row that this golf tournament has raised funds for City of Hope. This year, ServiceMaster by T.A. Russell, along with the sponsors and vendors of this tournament, raised $12,000 for pediatric cancer research, bringing their two-year total to $26,434.
This year's Annual Golf Tournament featured food and games on the course in addition to the golf tournament itself. Metro Honda sponsored a hole-in-one opportunity for the 10th hole and the Los Angeles Lakers provided some of their cheerleaders to participate in the event. The main feature of this event was the guest speaker Caitlyn who was diagnosed with cancer as a child but is now cancer free thanks to the treatment she received from City of Hope. Caitlyn spoke during the luncheon about her experience.
The owners of ServiceMaster by T.A. Russell, Bruce Mason and Todd Russell, are grateful for the participation of their employees and the vendors and sponsors, including Metro Honda, Proceed Innovative, and others. According to Bruce Mason, raising enough money to extend just one life makes this fundraiser worth it.
About ServiceMaster by T.A. Russell
ServiceMaster by T.A. Russell is a trusted provider of disaster restoration and cleaning services in Azusa, CA and the surrounding areas of Los Angeles County. Their staff consists of highly trained technicians who can provide complete restoration services in any scenario, including indoor flood damage, fires, mold, and major storms. They use advanced techniques and equipment to fully restore damaged homes and commercial buildings, and they respond quickly to help limit the damage and save time and money on the restoration process. ServiceMaster by T.A. Russell also gives back to their community through events such as their Annual Golf Tournament.
About RestorationMaster
RestorationMasteFinder.com, or RMF, is a lead generation website developed by Proceed Innovative that provides cost-effective leads for listed businesses in the disaster restoration and cleaning industry. RMF is made up of many geo-based, highly optimized micro-sites that consist of service pages that rank high in local search results. These well-ranked service pages draw more relevant search traffic to RMF, resulting in more calls and sales leads for listed businesses which helps boost their conversion rate. RestorationMasterFinder.com is visible on major search engines including Google, Bing, and Yahoo in addition to many local, vertical, and social media web portals.