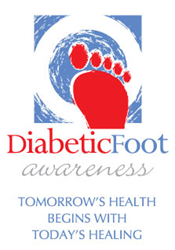 Up to 80 percent of all diabetic amputations are preventable.
WHITE PLAINS, N.Y. (PRWEB) November 08, 2019
During American Diabetes Month®, RestorixHealth is reminding people with diabetes that they are at a higher risk for non-healing foot wounds – and therefore amputations – than most Americans and that a wound healing center can provide guidance for prevention and treatment.
For most Americans, a blister or cut on the foot is a small inconvenience that a bandage and time will heal. But that's not the case for the 29.1 million Americans who have diabetes. Some of the complications of diabetes make feet vulnerable to non-healing foot ulcers that can result in infections and even amputations. Sixty to seventy percent of people with diabetes have limited or no feeling in their feet—their early warning systems have been altered or completely shut down by nerve damage. RestorixHealth is encouraging consumers (especially those with diabetes) to perform daily foot checks and address any skin changes or red patches on the feet by calling their local wound healing center immediately for an evaluation. The company's centers will educate, prevent and provide treatment when necessary.
"It's much easier to treat a minor foot problem before it becomes serious," says John C. Capotorto, M.D., endocrinologist, chief medical officer and founder of RestorixHealth. "Many of our centers' patients have a diabetic foot ulcer. This type of non-healing wound is the leading cause of hospitalization and amputation for people with diabetes. A person with diabetes has impaired immunity and often reduced blood flow to the legs and feet. Both can hamper healing, cause infections and cause damage to underlying structures and bones. In some cases, the damage can lead to a toe, foot or leg amputation."
The World Health Organization estimates that up to 80 percent of all diabetic amputations are preventable. RestorixHealth's wound healing centers will provide the best treatment to help the wound heal. However, in order to prevent a foot ulcer from starting, it is vital that patients with diabetes check their feet daily and get regular foot care from their doctor.
According to the American Diabetes Association, one adult is diagnosed in the United States every 19 seconds. That's 1.7 million more people each year at risk for non-healing wounds and other complications. What's more, one in four people who have diabetes today are undiagnosed and don't know they're at risk.
RestorixHealth utilizes evidence-based best practices and advanced therapies to develop individualized treatment plans for faster healing so patients can return to their daily lives and enjoy what they care about most.
For more information, visit http://www.RestorixHealth.com
About RestorixHealth
RestorixHealth, a leading wound care management company, develops and manages centers of excellence for amputation prevention, wound management and hyperbaric medicine. Forging strong relationships with their partners, RestorixHealth provides high quality, cost-efficient solutions to wound care that offer patients advanced treatment therapies along with hyperbaric oxygen therapy. Founded by physicians in 1997 to treat the growing incidence of non-healing wounds, RestorixHealth's centers utilize a quality- and data-driven approach to consistently achieve high treatment success rates, resulting in a dramatic improvement in patient quality of life. The company currently manages comprehensive centers throughout the United States in partnership with hospitals and health care facilities. For more information, visit http://www.RestorixHealth.com.