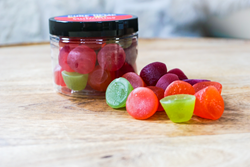 "With decades of experience producing liquid-based Formulas, our customers trust Results RNA to exceed the competition in flavor, quality and efficacy", says Results RNA President, David Larson.
OREM, Utah (PRWEB) March 23, 2021
Biopharmaceutical company Results RNA has just added Pure CBD Gummies to their exceptional line of Pure CBD Formulas. Pure CBD Gummies are delicious, calming and just what the doctor ordered. Each container is filled to the brim with 750mg of strawberry, mango, raspberry, and lemon-lime naturally flavored gummies, with every gummy containing 25mg of potent CBD.
Infused with Advanced Cellular technology, Pure CBD Formulas provide greater bioavailability, increased efficacy, and prolonged effect. Advanced Cellular technology is found in Pure CBD tinctures, topicals and now Pure CBD Gummies.
Results RNA Pure CBD Formulas are perfect for dealing with stress, relieving anxiety, improving mood, and preparing the body for sleep. With new prices, Pure CBD Formulas are more accessible than ever before.
Results RNA has spent over 20 years researching and developing Advanced Cellular Formulas. In a CBD market saturated with new companies who may or may not understand how to create safe and effective products for the body, Results RNA stands apart in both quality and experience. To learn more about Results RNA's new Pure CBD Gummies or any of their other CBD products, please visit: http://www.purecbdextrastrength.com