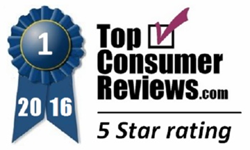 For all these reasons and more, Pro Resume Writing Services easily earns our highest rating for Resume Builders in 2016.
Overland Park, KS (PRWEB) November 02, 2016
TopConsumerReviews.com recently gave a best-in-class 5 star rating to Pro Resume Writing Services, a leader among Resume Builders.
For many years, a good resume has been the key to getting a job. In today's economy, employers often have to sift through hundreds, if not thousands, of hopeful applicants in order to decide which select few will be asked to move on to the interview stage of the hiring process. Having a resume that is clear, visually appealing, and makes a good first impression can often mean the difference between a "thanks but no thanks" response and an invitation to speak with a representative of the company. There are a number of services, known as Resume Builders, that can craft a well-written, attractive resume for any industry, increasing the chances of getting a foot in the door and eventually landing the job.
"If you've struggled to create a resume that effectively demonstrates your skills and experience, Pro Resume Writing Services can help," explained Brian Dolezal of TopConsumerReviews.com, LLC. "Unlike many Resume Builders out there, Pro Resume Writing Services has a pricing structure that is straightforward and easy to understand. Better yet, they offer a 100% guarantee that customers will get an interview with the resume they create. We like that Pro Resume Writing Services includes options for purchasing a well-written cover letter and thank-you letter, for those who want that extra professional touch. For all these reasons and more, Pro Resume Writing Services easily earns our highest rating for Resume Builders in 2016."
To find out more about Pro Resume Writing Services and other Resume Builders, including reviews and comparison rankings, please visit the Resume Builders category of TopConsumerReviews.com at http://www.topconsumerreviews.com/resume-builders/.
About Pro Resume Writing Services
Pro Resume Writing Services is a venture of Urja Media Corp. consisting of many professional resume writers and an HR team. The team consists of experienced CPRW (Certified Professional Resume Writer) writers, each with more than 5 years of experience in professional resume writing. Incorporated in the state of Wisconsin and based in the city of Milwaukee, Pro Resume Writing Services' writing team works in three U.S. time zones to serve clients quickly, along with a dedicated support team for handling phone support, live chat support and email support.
About TopConsumerReviews.com
TopConsumerReviews.com, LLC is a leading provider of independent reviews and rankings of hundreds of consumer products and services. From Resume Writing Services to Mortgage Refinance and Credit Repair Services, TopConsumerReviews.com delivers in-depth product evaluations in order to make purchasing decisions easier.