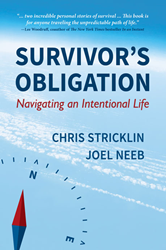 "This 'Survivor's Obligation' book is not about why I crashed. It is about why I survived and how it has impacted my life." - U.S. Air Force Colonel (retired) Chris R. Stricklin
BIRMINGHAM, Ala. (PRWEB) October 01, 2019
U.S. Air Force (Ret) Colonel Chris Stricklin and Former F-15 Mission Commander Joel Neeb announce the release of their new book, "Survivor's Obligation: Navigating An Intentional Life" (October 1, 2019) about how their near-death experiences transformed the way they live. The co-authors are now openly sharing their survival stories to inspire anyone facing an unpredictable path to embrace life and second chances.
Through their near-death experiences, the co-authors reveal how these fellow Fighter Pilots with aviator call signs "Elroy" (Chris R Stricklin) and "Thor" (Joel Neeb) helped each other heal with a new outlook on life. Their book encourages readers "to be more, do more, and live more" with a "challenge to live every day intentionally to the fullest."
After serving 23 years in the U.S. Air Force, including combat in both Afghanistan and Iraq, Stricklin walked away from what experts detail as an "un-survivable F-16 ejection" less than a second before it crashed in 2003. For 13 years, Stricklin did not discuss what happened with anyone, but now he hopes to help others by opening up about his experiences. "This book is not about why I crashed," says Stricklin. "It is about why I survived and how it has impacted my life."
Co-Author and fellow U.S. Air Force Fighter Pilot Joel "Thor" Neeb faced a very different near-death experience in 2010, when he was diagnosed with stage IV cancer. Thor's doctors gave him a 15 percent chance to live five years. At the same time, doctors discovered a tumor in Joel's three-year old son.
With "Survivor's Obligation" book release, Stricklin explains "We think we can make good come out of our bad. We believe our situations can help others grow from their own trauma. This is not about ejecting from an aircraft or surviving an unsurvivable cancer, it's about post traumatic growth from your own trauma you're going through every day. Our hope is to create a community of Survivors."
While "Elroy" and "Thor" both suffered very different traumatic events, these life changers resulted in a powerful bond between two survivors and fellow veterans. Their "Authors Message" in the book emphasizes, "Each of our lives changed in an instant." Based on their survival experiences, the co-authors explain it changed how they approach each decision now based on their "values of a lifetime" versus for today.
And as part of Stricklin's new life and WHY, he serves as a member of the Warriors Heart Foundation Honorary Board of Advisors that helps heal our warriors (military, veterans and first responders) and reduce the average suicide rate of 20 veterans per day in the United States. The Warriors Heart Foundation is a non-profit 501(c)(3) that provides financial assistance to warriors struggling with substance abuse, PTSD (post-traumatic stress disorder), mild TBI (traumatic brain injury), anxiety and recurring issues. The 42-day Warriors Heart residential treatment program provides "warriors" with an opportunity to heal with their peers, rebuild their lives and get a second chance.
Media Contact:
Liz Kelly: 310-987-7207
BOOK on AMAZON:
"Survivor's Obligation: Navigating an Intentional Life" (Elva Resa Publishing)
https://www.amazon.com/Survivors-Obligation-Navigating-Intentional-Life-ebook/dp/B07X43DHZY/ref=tmm_kin_swatch_0?_encoding=UTF8&qid=&sr=
ABOUT THE AUTHORS
CHRIS "Elroy" STRICKLIN (Birmingham, Alabama): U.S. Air Force Colonel (retired) Chris R. Stricklin is a highly sought-after motivational keynote speaker and a Combat-Proven Senior Military leader, with unique experiences ranging from Thunderbird Solo Pilot to White House and DARPA fellowships, culminating in a CEO-Level leadership of a 7,000-person strong, $7B worldwide organization. Stricklin is currently the President of Dunn University and passionately serves on the Warriors Heart Foundation Honorary Board of Advisors supporting healing for veterans and first responders. Chris and his wife, Terri, have four children. https://www.warriorsheart.com/honorary-board-of-advisors/#chris-stricklin and https://chrisstricklin.com
JOEL "Thor" NEEB (Atlanta, Georgia) - As a Former F-15 Mission Commander USAF, Neeb escorted the U.S. President through the sky and flew missions to ensure the safety of the country after the attacks of 9/11. "Thor" was the tactical leader of 300 of the most senior combat pilots in the Air Force and he oversaw the execution of a $150M/year flight program. Neeb was named the Top Instructor Pilot at the Air Force Flight Training Headquarters, and has flown thousands of missions teaching pilots from 25 countries around the world. Neeb is currently the CEO of Afterburner. https://www.afterburner.com/joel-thor-neeb/
ABOUT WARRIORS HEART FOUNDATION (Bandera, Texas)
The Warriors Heart Foundation is a 501(c)(3) non-profit organization that honors our Warriors, the veterans, active military, law enforcement, and first responders who have dedicated their lives to defend our nation. The foundation offers financial assistance to warriors suffering from chemical dependency, alcohol addiction, PTSD, mild TBI and recurring issues, who need our treatment programs the most. The mission of Warriors Heart is to bring 1 Million Warriors Home. Warriors Heart Foundation helps achieve this mission. https://www.warriorsheartfoundation.org/