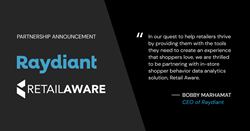 In our quest to help retailers thrive by providing them with the tools they need to create an experience that shoppers love, we are thrilled to be partnering with in-store shopper behavior data analytics solution, Retail Aware" - Bobby Marhamat, CEO of Raydiant
OMAHA, Neb. (PRWEB) May 17, 2021
Retail Aware has launched its newest partnership with Raydiant, as both companies continue their respective rapid growth nationwide. In conjunction with Raydiant's successful solution as the number one in-location digital signage and experience management platform in the world, Retail Aware is adding the ability to measure shopper behavior data around in-location experiences and signage.
"Our partnership with Raydiant will provide benefits to both parties, along with consumers," Retail Aware founder and CEO Keith Fix said. "Two retail technology companies are coming together to bring a more holistic solution for physical locations to attract and convert shoppers."
Retail Aware's unparalleled data assists brands in identifying the levels of items in stock, quantifying foot traffic trends, understanding customer engagement trends and unlocking other unique insights.
Retail Aware empowers decisions backed by real-time data to improve campaign metrics, increase sales, monitor stockouts, and ensure execution, all from an easy to read dashboard. Retail Aware's in-store shopper behavior data helps measure the impact of the incredible experiences you design with Raydiant.
Raydiant's in-location experience platform is designed to help you create, manage and scale customized offline experiences that ensure you are getting the most out of your physical space.
"In our quest to help retailers thrive by providing them with the tools they need to create an experience that shoppers love, we are thrilled to be partnering with in-store shopper behavior data analytics solution, Retail Aware," says Bobby Marhamat, CEO of Raydiant. "In the competitive world of retail it's often a struggle for retailers to remain top of mind to shoppers, which is why we make it our duty to do everything we can to help retailers succeed and this partnership is just another step in achieving that goal."
Please let us know if you are interested in interviewing Retail Aware Founder & CEO Keith Fix to develop a story.
Thank you for your consideration,
Retail Aware
media@retailaware.com
866.212.1258
ABOUT RETAIL AWARE: Retail Aware help brands, retailers, and their partners track in-store shopper behavior data to improve ROI. This is all done through cameraless technology in real time using patent pending and AI and sense driven technology. You can track multiple data points that bring insights like never before including: Shopper Journey, Attribution, Execution, AB Testing, and Activity Heat Mapping. Featured in Forbes, The Wall Street Journal, TODAY, Consumer Reports and more. For more information about our work, visit our website at retailaware.com.
ABOUT RAYDIANT: Raydiant's Experience Management Platform enables organizations to build strong, long-lasting relationships with their employees and customers by helping them create memorable, interactive experiences both in-location and in the workplace. Their easy-to-use, plug-and-play, cloud-based solution empowers Raydiant customers to create, manage and scale experiences across 1 or 100,000 locations anytime, anywhere. Founded in April 2017, Raydiant is backed by notable investors, including Bloomberg Beta, Lerer Hippeau, Transmedia Capital, 8VC, Atomic Ventures, and Ron Conway. For more information, please visit https://raydiant.com.